Leading Jockey, Trainer and Owner of the Meet Honored at Louisiana Downs Wednesday
Everardo Rodriguez accepts the Louisiana Downs 2019 Leading Quarter Horse Jockey trophy on Wednesday afternoon at Louisiana Downs.

© Hodges Photography / Ann Switalski


BOSSIER CITY, LA—MARCH 12, 2019—
The final day of the 2019 Quarter Horse racing season today (Wednesday) also included presentations for the meet's leading jockey, trainer and owner.
Everardo Rodriguez won his second Louisiana Downs leading rider title. The 29-year-old was born in San Luis Potosí, a city in central Mexico and began riding professionally in 2013. He finished the meet with 47 wins and had several days in which he piloted four or five winners on the card.
John Hamilton was second with 28 trips to the winner's circle and Luciano Duenez, who won the Mardi Gras Futurity, finished third in the standings with 16 wins.
On April 13, Rodriguez will be honored as 2018 LQHBA Champion Jockey (in a tied with Luis Vivanco) before heading to Delta Downs on April 19.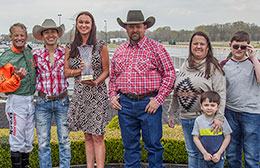 Lanny Keith accepts the Louisiana Downs 2019 Leading Quarter Horse Trainer trophy on Wednesday afternoon at Louisiana Downs.
© Hodges Photography / Ann Switalski
A very competitive battle for the training title went down to the final day of the season once again, with last year's leader Lanny Keith winning 27 races to top Willie Simien, Jr..
This was the second career leading training award for Keith, who lives in Leesburg, Texas. He brought 80% of his 2-year-olds to Louisiana Downs and was able to get experience for them, before shipping to Delta Downs. Simien finished with 24 victories and Josue Huitron and Kenneth Roberts, Sr. tied with 15 wins for the season.
Jose Barron accepts the Louisiana Downs 2019 Leading Quarter Horse Owner trophy on Wednesday afternoon at Louisiana Downs.
© Hodges Photography / Ann Switalski
Jose O. Barron was honored as leading owner title at Louisiana Downs, finishing the meet with 12 wins. The resident of Longview, Texas, has been a major supporter of Louisiana and Texas racing with previous titles at Delta Downs, Evangeline Downs and the Fair Grounds Quarter Horse meet.
Barron was fourth in the standings last year, but solid wins from his horses, including Di Maria, Atimely Touch and Coronaoro propelled hm to the top in 2019. He credits trainers Manuel Macias and Willie Simien, Jr. for their hard work and jockey Everardo Rodriguez, who rode the majority of his horses this meet.
Geral Dewitt and Bulldog Racing tied for second with seven victories each.
* * * * * * * * * * * * * * * * * *
About Harrah's Louisiana Downs
Located near Shreveport in Bossier City, Louisiana, Louisiana Downs opened in 1974 and was purchased by Caesars Entertainment in December, 2002. With annual Thoroughbred and Quarter Horse racing seasons, the track is committed to presenting the highest quality racing programs paired with its 150,000-square foot entertainment complex offering casino gambling, dining and plasma screen televisions for sports and simulcast racing.