Quarter Horse Racing Returns To Evangeline Downs, 46-Night Schedule Kicks Off On Wednesday
Live Quarter Horse racing returns to Evangeline Downs on Wednesday (Sept. 28).

© Coady Photography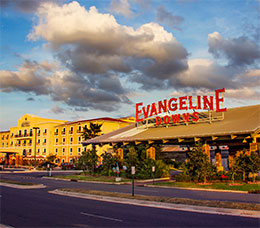 OPELOUSAS, LA—SEPTEMBER 21, 2016—
The 2016 American Quarter Horse season begins at Evangeline Downs on Wednesday, September 28. It is the first of 46 live racing nights to come this season with racing to be conducted on a Wednesday through Saturday schedule through closing night, Saturday, December 17. Post time for each live racing night will be 5:35 pm Central Time.
The opening weekend of the season will have stakes action on both Friday and Saturday nights. The $20,000 Evangeline Downs Dash for 3-year-olds and up at 220 yards will be the feature event on the Friday, September 30 program and the $30,000 Amelia Belle for 3-year-olds and up at 350 yards is the featured race on the Saturday, October 1 program.
There will be some notable events on the calendar at Evangeline Downs this season, including the $1,000,000 LQHBA Breeders' Futurity (RG1) for 2-year-old Louisiana-breds and the $150,000-added LQHBA Breeders' Derby for 3-year-old Louisiana-breds to be run on Saturday, November 19. Trials for the Futurity will take place on Friday, October 28 and trials for the Derby will be run on Saturday, October 29. The $100,000-added Evangeline Downs Futurity for 2-year-olds and the $75,000-added Evangeline Downs Derby for 3-year-olds will highlight the closing day program on Saturday, December 17. Trials for the Evangeline Downs Futurity will be Friday, November 25 and trials for the Evangeline Downs Derby will be Saturday, November 26.
Evangeline Downs will be welcoming back the leaders from the 2015 season for the 2016 campaign. Jockeys John Hamilton and David Alvarez tied for the riding title in 2015 with 40 victories each. Amazingly enough, the dead-heat for the riding title came about after Alvarez won a race on the final night of the 2015 season in a dead-heat to draw even with Hamilton.
Robert Touchet doubled as the track's leading trainer and owner for the 2015 American Quarter Horse season. Touchet won 30 races as a trainer at Evangeline Downs in 2015, outdistancing the runner-up, Trey Ellis, by three victories. Touchet claimed the owners' title with 14 winners from 30 starters he owned for the 2015 season.
For more information on the American Quarter Horse season at Evangeline Downs, visit the track's website at evdracing.com. Evangeline Downs' Twitter handle is @EVDRacing and the racetrack is also accessible on Facebook at www.facebook.com/EvanglineDownsRacing.
About Evangeline Downs
Evangeline Downs Racetrack Casino & Hotel is owned by Boyd Gaming Corporation, a leading diversified owner and operator of 22 gaming entertainment properties located in Nevada, New Jersey, Illinois, Indiana, Iowa, Kansas, Louisiana and Mississippi. Boyd Gaming press releases are available at www.prnewswire.com. Additional news and information can be found at www.boydgaming.com, or evangelinedowns.com.