Quarter Horse Jockeys Visit Shriners Hospital for Children
CQuarter horse jockeys from Louisiana Downs visited Shriners Hospital for Children on Friday.

LQHBA Photo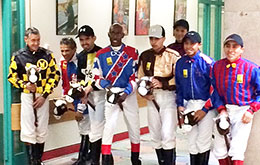 SHREVEPORT, LA—MARCH 13, 2015—
A group of American Quarter Horse jockeys from Louisiana Downs visited the Shriners Hospital for Children in Shreveport today.
Racetrack Chaplin Jimmy Sistrunk organized the event and the jockeys entertained the children with stick pony races.
Shriners Hospitals for Children — Shreveport combines a child-friendly environment with world-class medical care for children with a host of orthopaedic and neuromusculoskeletal disorders and diseases. Colorful treatment rooms, a spacious outdoor playground, and a wide range of rehabilitation activities give kids confidence and build life skills. Our medical team – from doctors and nurses to therapists and orthotists – puts the family first every step of the way.
To help create medical miracles for children at the Shriners Hospital in Shreveport CLICK HERE.