LQHBA Scholarship Presentations, Mardi Gras Handicapping Seminar Set Saturday at Louisiana Downs
LQHBA will award scholarships during Saturday's Mardi Gras activities at Harrah's Louisiana Downs.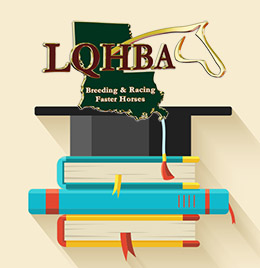 BOSSIER CITY, LAŚMARCH 5, 2019Ś
Breeding and racing are certainly top priorities for the Louisiana Quarter Horse Breeders Association (LQHBA), but one very important goal of the association is to promote education for Louisiana youth.
Since 2001, the LQHBA scholarship program has granted over $570,000 for students attending a higher education institution. In the continuing tradition of combining recognition of youth on big race days, two students will be awarded $2,000 scholarships on Mardi Gras Day (see related story), Saturday at Harrah's Louisiana Downs.
Applicants must register in person between noon and 2:00 p.m. (CST) on Saturday, March 16, 2019. A registration table will be located inside the main entrance of the racetrack next to the program stand.
Participant/entrant must be a Louisiana High School Graduate or a student who is graduating from a Louisiana High School in 2019 and will attend a higher education institution in the upcoming year.
The scholarship is limited to the cost of tuition, books (electronic or printed) and required electronic study materials only, and payment will be made directly from LQHBA to the institution that the recipient attends. For more information, visit LQHBA.com.
Mardi Gras Handicapping Seminar Set for Saturday
Louisiana Downs track announcer John McGary and regional racing publicist Martha Claussen will team up for a Mardi Gras handicapping seminar on Saturday at noon.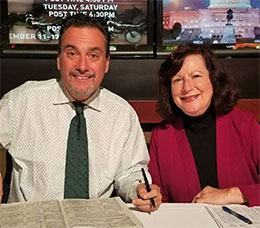 John McGary and Marha Claussen
.
The free seminar will be held in the Inside Rail, located on the first floor of the grandstand.
McGary and Claussen will offer their selections for each of the races on the Saturday card and in-depth analysis of the contenders in the Mardi Gras Derby and Futurity.
* * * * * * * * * * * * * * * * * *
About Harrah's Louisiana Downs
Located near Shreveport in Bossier City, Louisiana, Louisiana Downs opened in 1974 and was purchased by Caesars Entertainment in December, 2002. With annual Thoroughbred and Quarter Horse racing seasons, the track is committed to presenting the highest quality racing programs paired with its 150,000-square foot entertainment complex offering casino gambling, dining and plasma screen televisions for sports and simulcast racing.