Rob Tuel Hired As New Full Time Track Announcer At Evangeline Downs
Nebraska native Rob Tuel takes the microphone on Evangeline Downs Thoroughbred Meet opening night, April 28.

© Don Stevens / Facebook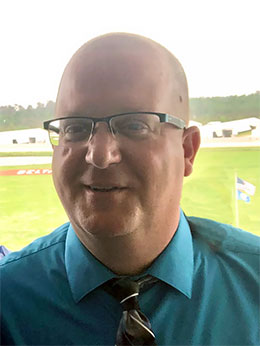 OPELOUSAS, LA—APRIL 21, 2021—
Evangeline Downs Racetrack Casino & Hotel has announced the hiring of Rob Tuel as its new full-time track announcer replacing Michael Chamberlain, who had spent the last six years behind the microphone in Opelousas, Louisiana.
Tuel's race calling experience began in 2004 at Eureka Downs in Kansas, where he called both Thoroughbreds and Quarter Horses. Over the years he has also called races in his home state of Nebraska at FairPlay Park, Lincoln Race Course and Atokad Park.
"I am honored and thrilled to be selected as the new track announcer at Evangeline Downs," said Tuel. "It has been a lifelong dream to the announcer at such a prestigious racetrack and I cannot wait to begin."
Tuel will also have the responsibility of handicapping each program at Evangeline Downs while also hosting the track's daily simulcast show. His experience in front of the camera along with a lifetime of handicapping horse races will provide fans with valuable insights and plenty of winning picks nightly. From 2010 – 2012 he served as paddock host and handicapper at Lincoln Race Course while working with Chamberlain, who was the announcer at that time.
"We are very exciting to have Rob join our racing team here at Evangeline Downs," said Carol Core, Vice President and General Manager. "He brings plenty of excitement and enthusiasm to the position of track announcer and I'm sure he will be well received by race fans both locally and across the nation via simulcast."
Tuel's first full season at Evangeline Downs will run from April 28 through September 18. The track will host live programs each Wednesday through Saturday night beginning at 5:50 pm Central Time.
* * * * * * * * * * * * * * * * * * * * *
For more information on the American Quarter Horse season at Evangeline Downs, visit the track's website at evdracing.com. Evangeline Downs' Twitter handle is @EVDRacing and the racetrack is also accessible on Facebook at www.facebook.com/EvangelineDownsRacing.
About Evangeline Downs
Evangeline Downs Racetrack Casino & Hotel is owned by Boyd Gaming Corporation, a leading diversified owner and operator of 22 gaming entertainment properties located in Nevada, New Jersey, Illinois, Indiana, Iowa, Kansas, Louisiana and Mississippi. Boyd Gaming press releases are available at www.prnewswire.com. Additional news and information can be found at www.boydgaming.com, or evangelinedowns.com.