Delta Stakes Nominations and Evangeline Stall Applications Are Available
Stall applications and stakes nominations are coming due for Louisiana horsemen.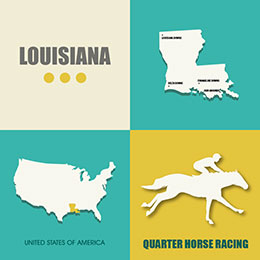 ALEXANDRIA, LA—JULY 30, 2015—
Stall applications for the upcoming 2015 Evangeline Downs Quarter Horse meet and futurity and derby nomination forms for the 2016 Delta Downs stakes races are now available.
Evangeline Downs offers 46 days of Quarter Horse racing in 2015, opening September 30. The track will run on a Wednesday through Saturday schedule through December 19.
Stall applications for Evangeline Downs are due August 14. Horsemen can access the Evangeline Stall applications for the Evangeline race meet by CLICKING HERE. Additional horsemen's info for the Evangeline Quarter Horse Meet is available here.
Among the major stakes scheduled at Evangeline Downs in 2015 are the $1 million LQHBA Breeders' Futurity, the Evangeline Downs Futurity and Evangeline Downs Derby.
* * * * * * * * * * * * * * * * * * * * *
Delta Downs, which closed it 2015 Quarter Horse meeting on July 11, offered more than $10. 3 million in purses over the 46 live racing days. The track collected in excess of $18 million in handle with an average of nine starters per race.
The first payment for the $75,000-added Louisiana-Bred Laddie and Lassie futurities is October 14. The first payment for the 2016 $200,000-added Lee Berwick Futurity is November 11, and the $150,000 Delta Downs Louisiana-Bred Derby's is due November 24.
Nominations for the $100,000-added Firecracker Futurity and $100,000 Firecracker Derby are due December 2. Nominations for the $25,000-added Old South Futurity and $25,000-added Old South Derby are due January 6, 2016, and the $55,000-added Alabama Futurity's first payment is due February 3, 2016.
www.lqhba.com or call 318.487.9506.