Fair Grounds Plans Special Events for Quarter Horse Meet
Fair Grounds Race Course & Slots will celebrate the culture of street food, food trucks and more on opening weekend of the track's Summer Quarter Horse Meet wet to open August 10.

© Fair Grounds Photo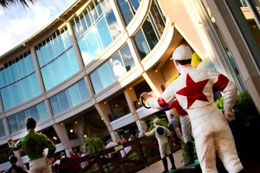 NEW ORLEANS, LA—JUNE 17, 2015—
Fair Grounds Race Course & Slots will celebrate the culture of street food, food trucks and more with the return of the Street Fare Derby Presented by Redd's Apple Ale and the Louisiana Quarter Horse Breeders Association on opening weekend of the track's Summer Quarter Horse Meet.
Slated for Saturday, August 15 from 4-9 p.m. and Sunday, August 16 from 12:30-6 p.m., the two-day event will be the first to have both a day and a night racing program since the venerable track welcomed more than 2,800 participants to the inaugural Street Fare Derby in 2011. The two days of delicious eats from the street also includes live music on Saturday by Flowtribe (4:30-6:30 p.m.) and Johnny Sketch and the Dirty Notes (7:30-9:30 p.m.), as well as Sunday, the John "Papa" Gros Band (1:00-3:00 p.m.) and Bonerama (4:00-6:00 p.m.).
General admission to Fair Grounds during the summer Quarter Horse meet is always free. Admission to the Street Fare Derby is $15. Advance tickets are available online exclusively through www.fairgroundsracecourse.com for $10.
Each day will also include a one-hour VIP experience with early access beginning at 3:00 p.m. (Saturday) and 11:30 a.m. (Sunday) that is also available online for $75 per person. It includes a reserved parking space, commemorative t-shirt and tastings from vendors along with beer and cocktails during the 60-minute preview.
Fair Grounds initially ventured into the world of street fare with invitations to popular local food trucks during its popular Starlight Racing series on Friday nights during the Thoroughbred Racing Season. The overwhelming response, coupled with an explosion of public interest in street fare nationally, led Fair Grounds officials to host the first-ever major gathering of food trucks and street fare vendors in New Orleans in 2011.
"Based on the overwhelmingly positive results for our first event and the successful momentum of live racing this year, we are excited to continue our efforts to expose casual and new-to-racing fans to not only our industry, but to the versatility of entertainment experiences offered here at Fair Grounds," said Fair Grounds president Tim Bryant. "The Street Fare Derby blends the best features of New Orleans culture – world-class entertainment, exceptional food and convivial socializing – at one of the city's truly historic and traditional gathering places."
The street food craze continues to sweep the nation as a fun, delicious and affordable option to the traditional sit down restaurant. New Orleans' emerging food truck scene is buoyed by the city's plethora of adventurous chefs and a citywide tradition of high-quality food relative to other major American cities.
"We look forward to hosting the many creative culinarians that give New Orleans its reputation for fantastic street fare and pop-up restaurant food on a daily basis," said Bryant.
Fair Grounds is also proud to announce that the Louisiana Quarter Horse Breeders Association will serve as the presenting partner for the 2015 Quarter Horse meet along with Redd's Apple Ale taking place August 15-September 5, 2015. The Louisiana Quarter Horse Breeders Association (LQHBA) is recognized by the Louisiana Legislature and the Louisiana State Racing Commission as the official registry of Accredited Louisiana Bred racing Quarter Horses.
The LQHBA's mission is to continue to upgrade and improve the quality of Accredited Louisiana Bred racing quarter horses and to upgrade and improve the Annual Yearling Sale and Fall Mixed Sale. The Quarter Horse racing season is highlighted by the Louisiana Quarter Horse Breeders Association Futurity which will have $150,000 in added purse money on September 5.
"We are once again proud to partner with the LQHBA in its efforts to foster care, growth and the competitiveness of the states finest Quarter Horses," said Fair Grounds general manager of racing Howard Withers.
With Fair Grounds hosting its eighth Summer Quarter Horse Meet this year, the ever-popular Exotic animal racing will also return in a night card on August 29th. The track will host one Ostrich race and one Camel race that are also presented by Redd's Apple Ale and the Louisiana Quarter Horse Breeders Association. Additionally, food and beverage specials will be available for the event.
First post is 12:30 p.m. (all times Central Daylight Time) Sunday, Aug. 16 and Thursdays to Saturdays, Aug. 20 – 22 and 27 – 29th, as well as Sept. 4 & 5.
Night racing post-times will be 4:00 p.m. on Opening night, Saturday, Aug.15 and Exotic Animal event night, Aug. 29.