LQHBA Yearling Sale Consignors Announcement
For additional information visit the association's website at
lqhba.com
.


© LQHBA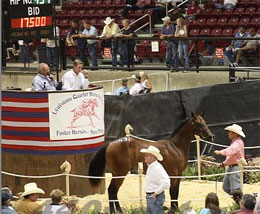 ALEXANDRIA, LA—APRIL 29, 2020—
Consignments are due Friday, May 1 for the 2020 LQHBA Yearling Sale scheduled August 6 thru 8, 2020 at the Coushatta Casino in Kinder, Louisiana.
The state of Louisiana remains under a COVID-19 "Stay at Home Order" issued by Governor Edwards through May 15, 2020. To comply with this order the LQHBA OFFICE is currently CLOSED to the public as required by Louisiana Law.
"However, we will accept appointment only visits in the lobby from 9:00 am to 3:00 pm daily for LQHBA Yearling Sale Consignors Only," Executive Director Bruce Salard said today.
The association is requesting consignors "make every effort" to mail their Consignment Forms, AQHA Papers stamped parentage verified and LQHBA Papers with a postmark on or before the May 1, 2020 deadline or to send them via FedEx or other traceable mail.
If due to inclement weather or other reasons consignors cannot have their 2020 LQHBA Yearling Sale Consignments postmarked and mailed on or before May 1, 2020, then please call the LQHBA office and make an appointment to deliver consignment forms to the office on or before end of day, Friday May 8.
There will be NO LATE CHARGE for physical delivery of 2020 LQHBA YEARLING SALE CONSIGNMENT FORMS to the LQHBA Office Prior by the close of business, Friday, May 8, 2020.
For additional information visit the association's website at lqhba.com.