Louisiana Set To Go Zero Tolerance On Albuterol Effective February 2022
Louisiana State Racing Commission has voted to go to 'zero tolerance' on the use of Albuterol beginning in February 2022.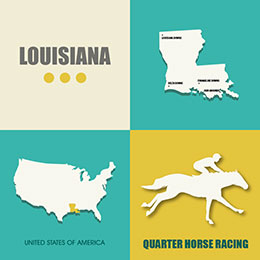 BATON ROUGE, LA—JULY 21, 2021—
The Louisiana State Racing Commission voted to approve a "Notice of Intent" on an amendment to Quarter Horse race medications at their June 17, 2021 Racing Commission Meeting.
In accordance with the provisions of the Administrative Procedure Act, and through the authority granted in R.S. 4:148, notice is hereby given that the Racing Commission formally amends LAC 35:1.1506.
"ALBUTEROL IS A PROHIBITED SUBSTANCE IN QUARTER HORSES AND OTHER BREEDS RACING WITH QUARTER HORSES. THERE IS NO APPLICABLE WITHDRAWAL GUIDELINE FOR SUCH HORSES."
The amendment adds an additional penalty specifically relating to the race horse who receives a positive test for the prohibited medication Clenbuterol in a Quarter Horse. This Rule is hereby adopted on the day of promulgation.
Zero tolerance on Albuterol will become effective in Louisiana on February 17, 2022.
CLICK HERE to read the rule amendment on permitted medications in Quarter Horses.
Please refer to LSRC website at horseracing.louisiana.gov for any further details.