Harrah's Louisiana Downs Quarter Horse Meet Gets Underway On Saturday
Leading jockey Luis Vivanco returns to Louisiana Downs later this week off off a record year that began at the Northwestern Louisiana racetrack last January.

© Coady Photography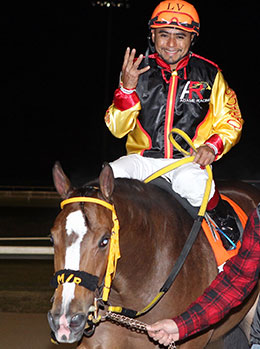 BOSSIER CITY, LA—DECEMBER 31, 2018—
The 2019 Quarter Horse racing season at Harrah's Louisiana Downs will commence on Saturday (Jan.5). The 46-day meet runs through March 20 with live action set for Saturday, Sunday, Monday and Tuesday with a 1:00 p.m. (Central) post time.
A field of ten quality sprinters will compete in Saturday's $15,000 Harrah's Dash (see related story), the first stakes of the live racing season.
Jockey Luis Vivanco Finishes out the Year as the Top Jockey in the Country by Wins
Jockey Luis Vivanco returns to Louisiana Downs off a record year that began here last January. Riding full-time on the Louisiana circuit proved to be a perfect fit for the 36-year-old who was born in Veracruz, Mexico and began riding in the United States in 2007. He won 127 races to finish the year as the top North American Quarter Horse jockey in wins and will likely be a finalist for 2018 AQHA Champion Jockey, along with Raul Ramirez, Jr.; Ricky Ramirez and Cody Jensen.
With support of many horsemen he had ridden for in Texas and the established Louisiana connections of agent Cynthia Menard, Vivanco began 2018 at Harrah's Louisiana Downs, finishing ranked fifth with 12 wins and a respectable 48% in the money statistic.
Vivanco rode several horses for trainer Miguel Rodriguez at Louisiana Downs, running second in the $294,942 Mardi Gras Futurity (RG2) aboard TDZ Louisiana Toast.
"He's very dedicated and down to earth," stated Rodriguez. "Luis is willing to do whatever is asked. It's no surprise to me that he is having the success in Louisiana. He's very hard working; a family man and nice person."
Vivanco faced an ultra-competitive jockey colony at Delta Downs with hopes of finishing in the top ten in the standings. He surpassed that goal significantly, challenging perennial leader John Hamilton to the wire, finishing the 46-day meet with a record of 40 wins from 216 starters, just four behind Hamilton.
Next came Fair Grounds, where Vivanco won 11 races in the ten-day season, again, finishing one win behind Hamilton.
However, he soared to his highest level at Evangeline Downs, winning the LQHBA Louisiana Million aboard Larry Boudreaux's Mpshinning. He concluded the meet with 35 victories and tied Hamilton for leading rider honors.
"Luis is very professional," explained trainer Josue Huitron, trainer of Mpshinning. "He works hard for us in the morning and always tries his best to win each race. We work well together."
Vivanco and his wife, Elizabeth, have two children, Lorena, 6, and four-year-old Jesus. Home is in San Antonio, which requires a lot of time on the road as he commutes back and forth to Louisiana. His love for his wife and children provide the incentive on those long hours behind the wheel.
"It is hard on my family, but I never thought at the beginning of the year that I would find this kind of success here in Louisiana," said Vivanco. "It's been a dream come true and I am very grateful." It was also an exceptional year for Huitron, who won the Lassie and Lee Berwick Futurities at Delta Downs in addition to the LQHBA Louisiana Million at Evangeline Downs. The 26-year-old horseman has 35 horses at Louisiana Downs.
* * * * * * * * * *
Louisiana Downs 2019 Quarter Horse Stakes Schedule

JAN 05 — $15,000 Harrah's Dash — 4 YO & Up — 350 YDS
JAN 12 — $15,000 Marathon Stakes — 4 YO & Up — 870 YDS
JAN 19 — $25,000 Billy Montgomery — 3 YO LA-Bred — 350 YDS
JAN 26 — $15,000 Swift Stakes — 4 YO & Up — 350 YDS
JAN 26 — $25,000 Party Girl Stake — 4 YO & Up F&M LA-bred — 350 YDS
FEB 02 — $25,000 Magnolia Stakes — 3 YO & Up LA-Bred — 870 YDS
FEB 09 — $15,000-a. LAD Maiden Stake — 3,4 & 5 YO LA-Bred — 350 YDS
FEB 16 — $25,000 Mr Jess Perry — 4 YO & Up LA-Bred — 330 YDS
MAR 16 — $100,000-added Mardi Gras Futurity — 2 YO LA-Bred — 300 YDS
MAR 16 — $50,000-added Mardi Gras Derby — 3 YO LA-Bred — 400 YDS
MAR 16 — $15,000 Leverne Perry Memorial — 3 YO & Up — 400 YDS
MAR 20 — $75,000-added Harrah's Futurity — 2 YO — 300 YDS
2019 Quarter Horse Trial Dates:

JAN 19 — Louisiana Downs Maiden Stake
FEB 23 — Mardi Gras Futurity
FEB 24 — Mardi Gras Derby
MAR 2 — Harrah's Futurity
To see a complete list of race dates and post times, CLICK HERE
* * * * * * * * * * * * * * * * * *
About Harrah's Louisiana Downs
Located near Shreveport in Bossier City, Louisiana, Louisiana Downs opened in 1974 and was purchased by Caesars Entertainment in December, 2002. With annual Thoroughbred and Quarter Horse racing seasons, the track is committed to presenting the highest quality racing programs paired with its 150,000-square foot entertainment complex offering casino gambling, dining and plasma screen televisions for sports and simulcast racing.