Delta Expected to Hit Louisiana as a Category 2 Hurricane, LQHBA to Close Office Early On Friday
LQHBA will close their office at 1 p.m. (CDT) Friday as a precaution to impending Hurricane Delta.

© National Weather Service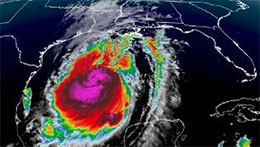 ALEXANDRIA, LA—OCTOBER 8, 2020—
Hurricane Delta, intensifying as it churns over the Gulf of Mexico, still aims to strike southwestern Louisiana on Friday at Category 2 strength, and with its range due to grow, hurricane-force winds soon could extend across a stretch of Texas coast.
LQHBA will close their office in Alexandria at 1 p.m. (CDT) on Friday (Oct. 9) as a precaution.
A hurricane warning has expanded west and now stretches from High Island in Texas to Morgan City, Louisiana. A storm surge warning is in effect from High Island to Ocean Springs, Mississippi, including Lake Pontchartrain and Lake Borgne.
For additional information visit the association website at lqhba.com.