Longtime Louisiana Horseman and LQHBA Board Member Jim Mitchell Ill
LQHBA Board Member Judge Jim Mitchell is ill.

© AQHA Racing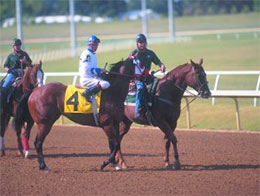 AMERICAN QUARTER HORSE ASSOCIATION—JULY 24, 2015—
The Louisiana Quarter Horse Breeders Association requests that people keep longtime LQHBA board member Judge Jim Mitchell of Leesville, Louisiana, and his family in their thoughts and prayers.
Judge Mitchell became ill earlier this week and he is currently in ICU at Rapides Regional Medical Center in Alexandria, Louisiana.
Judge Mitchell served as a Captain in the U.S. Army for four years and later became a local attorney in Leesville for 35 years before being elected as a district judge in 2008.
Mitchell is an AQHA lifetime member and has bred American Quarter Horses for more than 30 years. He has bred horses who have earned more than $1.4 million on the racetrack. They include the likes of stakes winners Martini Mountain ($421,147), Rakin In Romeo ($152,424) and Grits Gator ($206,593) and accomplished show horse Perfectly Suited.
LQHBA will provide updates as they become available.
AQHA News and information is a service of the American Quarter Horse Association. For more news and information, follow @AQHARacing on Twitter, watch the AQHA Racing Newscast and visit www.aqharacing.com.