Harrah's Louisiana Downs Quarter Horse Meet Gets Underway On Saturday
Twelve stakes are set for the Louisiana Downs 46-day live racing season.

© Lou Hodges Photography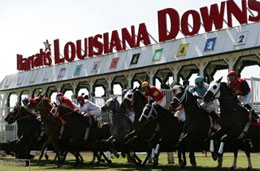 BOSSIER CITY, LA—JANUARY 2, 2018—
The 2018 Quarter Horse racing season at Harrah's Louisiana Downs will commence on Saturday, January 6.
The 46-day meet includes 12 stakes highlighted by the first official championship for 2-year-olds, the $100,000-added Mardi Gras Futurity on March 17. Live racing will take place Saturday, Sunday, Monday and Tuesday with a 1:00 p.m. (Central) post time and will continue through March 21.
Leading Rider Damian Martinez Finishes out the Year as the Top Jockey by Wins
Jockey Damian Martinez returns to Louisiana Downs off a record year that began with the title here last March. He won 37 races and kept his momentum going throughout 2017, winning 124 races to finish the year as the top North American Quarter Horse jockey in wins.
The 24-year-old was born in Coahuila, Mexico and began riding professionally in 2012. His career got a huge boost when Texas horseman Brian Stroud saw his potential and the two embarked on a prolific association with Jrc Callas First. Under Martinez, the versatile Texas-bred won ten stakes and was honored as 2014 AQHA World Racing Champion. There are many jockeys that ride their entire life without riding a Grade 1 winner, let alone a world champion, but Martinez has that on his resume' already.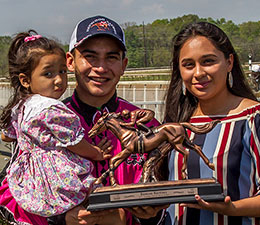 Last year's leading Louisiana Downs Quarter Horse jockey Damian Martinez will return to defend his title in 2018.
© Hodges Photography
Martinez shipped his tack to Louisiana in 2016 and rode the entire meet at Delta Downs, finishing second to David Alvarez. He was not sure how the transition from Texas would go, but was welcomed with open arms by the members of the Delta Downs jockey colony. "It's a whole different atmosphere in Louisiana," stated Martinez. "Everyone was helpful and encouraging. You don't find that everywhere!"
In 2016, Martinez won 102 races; finishing second in AQHA standings by wins, to David Alvarez. The two Louisiana leaders were two of only four Quarter Horse jockeys in the country to eclipse 100 wins for the year.
But Martinez took it to another level in 2017, winning 124 races and purses of $1.8 million and will certainly be on the ballot for AQHA champion jockey with voters having to make a very tough choice in that category. Rodrigo Vallejo completed the year as the leading money-earning rider with $3.5 million and 2015 AQHA champion jockey Ricky Ramirez had a strong year as well.
"It feels great," Martinez said his 2017 record. "I could not have done it without the support of so many trainers and owners."
Trainer Bobby Martinez (no relation) has known Damian for many years and will give him a let up on Tf Jess a Leader in the Harrah's Dash on Saturday.
"Damian is very patient on a horse and has become one heck of a rider," said Martinez.
A devoted family man, Damian and his wife, Bianca are proud parents of daughter, Daila, and are awaiting the birth of their second child in July.
"It would be nice to be honored as champion jockey," added Martinez. "If its meant to be, it will be great. But for now, I am looking forward to the Louisiana Downs meet and just taking life as it comes."
Harrah's Dash On Opening Day Program
Scoopies Leaving You is the 3-1 morning line choice in a field of ten Louisiana-bred sprinters to compete in Saturday's $15,000 Harrah's Dash, the first stakes of the live racing season (see related story).
* * * * * * * * * * * * * * * * * *
Louisiana Downs 2018 Quarter Horse Stakes Schedule
The following stakes will be contested during the 2018 Quarter Horse racing season:
January 6 $15,000 Harrah's Dash 4 YO & Up 250 yards
January 13 $15,000 Marathon Stakes 4 YO & Up 870 yards
January 20 $25,000 Billy Montgomery 3 YO LA-Bred 350 yards
January 27 $15,000 Swift Stakes 4 YO & Up 350 yards
January 27 $25,000 Party Girl Stakes 4 YO & Up F&M LA-Bred 350 yards
February 3 $25,000 Magnolia Stakes 3 YO & Up LA-Bred 870 yards
February 10 $15,000-added LAD Maiden Stake 3,4 &5 YO LA-Bred 350 yards
February 24 $25,000 Mr Jess Perry 4 YO & Up LA-Bred 350 yards
March 17 $100,000-added Mardi Gras Futurity 2 YO LA-Bred 300 yards
March 17 $50,000-added Mardi Gras Derby 3 YO LA-Bred 400 yards
March 17 $15,000 Streakin La Jolla 2 YO & Up 400 yards
March 21 $75,000-added Harrah's Futurity 2 YO 300 yards
For a complete list of the stakes schedule, including trial dates, CLICK HERE.
* * * * * * * * * * * * * * * * * *
About Harrah's Louisiana Downs
Located near Shreveport in Bossier City, Louisiana, Louisiana Downs opened in 1974 and was purchased by Caesars Entertainment in December, 2002. With annual Thoroughbred and Quarter Horse racing seasons, the track is committed to presenting the highest quality racing programs paired with its 150,000-square foot entertainment complex offering casino gambling, dining and plasma screen televisions for sports and simulcast racing.