Fair Grounds Opens It's 12th and Next Generation of Off-Track Wagering and Video Poker Facilities
A Twinspires.com Pari-Mutuel horse wagering area features 16 large screen 4k high-definition (HD) televisions and stadium-style graduated seating for 26.

© Fair Grounds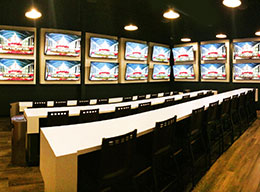 NEW ORLEANS, LA—MAY 7, 2018—
Fair Grounds Race Course & Slots today announced the opening of its 12th off-track-wagering facility in the New Orleans metropolitan area.
Located in the Ormond Center One Shopping Center, 121 Ormond Center Court, in Destrehan, LA, the facility features 65 video poker games with premium comfort seating, a full- and self-serve Twinspires.com Pari-Mutuel horse wagering area featuring 16 large screen 4k high-definition (HD) televisions, stadium-style graduated seating for 26 and a quick-serve menu concession station.
Additionally, the casino boasts a state-of-the-art air purifying smoke removal system, customer-friendly, full service cashiering with Royal Rewards loyalty kiosk and convenient, reserved parking spaces for patrons with St. Charles Parish police detail on-site during all operational hours and more.
At nearly $3 million in overall investment, the off-track-wagering and video poker facility includes high-end finishing's to enhance the overall gaming experience. This re-engineered aesthetic design will be carried forward in all new Fair Grounds locations in the future including the 13th location that is currently under construction in Meraux, Louisiana.
Elements include a more modern and contemporary feel in décor through large wood-planked entry and gaming wall and floor accents, multi-layered hexagon-shaped reflective glass tile, multiple 4k HD televisions throughout and other subtle nuances for customers and the employee back-of-house areas as well. This new look and feel exudes excitement with a balance to comfort and functionality.
"We are excited to introduce the latest iteration of what will become the next generation of our off-track-wagering and video poker casinos with this opening in Destrehan. We know that our racing and video poker customers will love the facility. We also look forward to continuing to grow our main track horse racing purses, which naturally increase as a percentage of our gaming revenue from each of the Fair Grounds current metropolitan locations," said Doug Shipley, president Fair Grounds Race Course and Slots and Fair Grounds OTB and Casinos.
"We would like to thank our operational and regulatory partners on the project - most notably - the Louisiana Gaming Control Board, the Louisiana State Racing Commission, the Louisiana State Police and the Louisiana Horsemen's Benevolent & Protective Association for their guidance and assistance in this opening as well."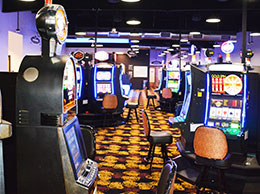 The facility features 65 video poker games with premium comfort seating.
© Fair Grounds
In addition, the Fair Grounds OTB and Casino in Destrehan will provide new jobs and local and state tax benefits, as well as horse racing purse supplements totaling over an estimated $1 million annually.
"The Louisiana Horsemen's Benevolent & Protective Association commends the Fair Grounds for providing a first class Off-Track facility in Destrehan for the convenience of horse racing fans and the benefit of the industry," said Benard Chatters, President of the LA HBPA. "We appreciate that the Fair Grounds provides an extensive network of Off-Track Racing facilities that provides convenience for Horse Racing fans and greatly benefits Live Racing Purses for Louisiana Horsemen."
About Fair Grounds Race Course & Slots
Fair Grounds Race Course & Slots, the nation's third-oldest racetrack, has been in operation since 1872. Located in New Orleans, LA, Fair Grounds is owned by Churchill Downs Incorporated (NASDAQ Global Select Market: CHDN); it also operates a slot-machine gaming facility and 12 off-track betting parlors throughout southeast Louisiana. Live racing returns in August with the running of the 10th Summer Quarter Horse Meet and in the Fall for the 147th Thoroughbred Racing Season – highlighted by the 106th running of the Louisiana Derby in March of 2019. More information can be found online at fairgroundsracecourse.com.