LQHBA Debuts New ''LQHBA Louisiana Million'' Trophy
Renowned equine artist Lisa Perry was commissioned to produce a new stakes trophy for the million-dollar guaranteed LQHBA Louisiana Million(RG1).

© LQHBA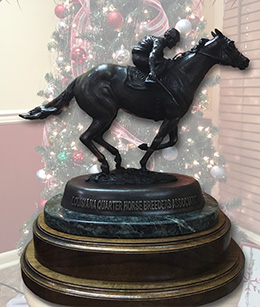 ALEXANDRIA, LA—DECEMBER 13, 2017—
LQHBA will debut a new stakes trophy for the restricted Grade 1 LQHBA Louisiana Million Saturday night at Evangeline Downs.
In 2017 the LQHBA Board of Directors voted to rename their $1 million-guaranteed LQHBA Breeders' Futurity to the "LQHBA Louisiana Million".
The LQHBA Louisiana Million(RG1) is the only sate-bred race to carry a purse of $1 million dollars.
To commemorate the annual race under its new name the Board also commissioned renowned equine artist Lisa Perry to design and sculpt a new stakes trophy.
"With the renaming of the only million dollar RG1 state bred race in the country, our board of directors also wanted a new, signature bronze trophy," LQHBA Executive Director Tony Patterson said late Tuesday. "We appreciate the efforts of Lisa Perry who sculpted the bronze and Andy Golden who helped make it all come together. This is a trophy we are all extremely proud."
Among Perry's many equine commissions are a 1-¼ life-size bronze of AQHA Racing World Champion Refrigerator in front of the American Quarter Horse Hall of Fame in Amarillo, Texas; 1-¼ life-size bronze of Thoroughbred Champion and Kentucky Derby winner Alysheba in front of Lone Star Park in Grand Prairie, Texas; and "The Wind Drinkers", an 8-foot-tall by 25 feet long, sculpture of three mares and two foals, at the new Texas A&M Veterinary and Biomedical Education Complex in College Station, Texas.
She has also sculpted AQHA Racing Champions' trophies and AQHA Bank of America Challenge stakes trophies.
The winning owner of the 2017 LQHBA Louisiana Million will be awarded the inaugural trophy on Saturday night following the 8th race at Evangeline Downs.