LQHBA Names Additional Champions
LQHBA has added three additional horses to their 2015 State Champions list.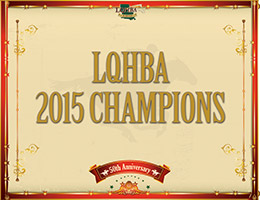 ALEXANDRIA, LA—MAY 24, 2016—
LQHBA's Board of Directors has added three additional champions to their 2015 State Champions list that have previously be announced.
Additional LQHBA Co-Champions for 2015 include:
Champion 3-Year-Old Gelding (Co-Champions)

ICANONLYEMAGINE

Owner: Bobby Cox
Breeder: Daniel Trahan
Champion Aged Mare (Co-Champions)

SCOOTER PRIZE

Owner: Ana L. Alvidrez
Breeder: John K. Leger


Champion Aged Stallion (Co-Champions)


HEZA FAST ROGUE
Owner: Brock Broussard & Jacques Bourque
Breeder: Triple M Farms LLC

The adjusted 2015 LQHBA Champions list was decided the same way they were done in 2014. The highest earnings by category and the highest AQHA point totals by category.

"All owners and breeders should have already received their trophies for these additions," LQHBA Executive Director Tony Patterson said Friday.

Beginning in 2016 – the LQHBA Champions selection formula will be:
Take the AQHA Points of the highest money earner by category
Add 10 points for winning a stake race
Add 5 points for finishing 2nd in a stakes race
Add 3 points for finishing 3rd in a stake race
Add 1 point for qualifying to a Futurity or Derby Final
If the highest money earner's (by category) new point total is the highest for that category – then that horse is an LQHBA Champion
If the highest money earner's new point total is not the highest (by category) – then we will have co-champions for that category (the highest money earner and the highest AQHA point total)
At the April meeting the Board of Directors voted to begin this new LQHBA Champion selection formula in 2016.

For the complete list of 2015 LQHBA Champions CLICK HERE.