No Raining On Mardi Gras Futurity Trial Saturday At Harrah's Louisiana Downs
Jockey John Hamilton returned to the saddle to get the fastest qualifying time in the Mardi Gras Derby trials aboard The Cazador.

© Coady Photography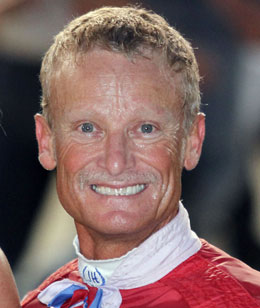 BOSSIER CITY, LA--FEBRUARY 27, 2018--
Harrah's Louisiana Downs hosted a huge day of racing on Saturday, February 24. The day kicked off with the 13th running of the $25,000 Mr Jess Perry and continued with 14 trials for the $310,466 Mardi Gras Futurity (RG2) (
see related stories
).
Louisiana Downs offered entertainment for fans of all ages, including a children's area with bounce houses, games and face painting and culinary delights from the most popular food trucks in Shreveport-Bossier City.
Positive Notes on Handle and Purse Increases
Louisiana Downs geared up its marketing efforts to promote Mardi Gras Futurity trial day on Saturday, February 24. Despite heavy rain throughout the week and into Saturday, their numbers were up and significant handle increases were noted for the day.
With 15 races run this year as well as this 2017, officials were pleased to report handle numbers were up across the board. On-track wagering was $78,069, an increase of 11%. Wagering from tracks and simulcast facilities across the county totaled $462,973; up 6% from last year.
"We were pleased to see increases for both on-track and off-track wagering, accounting for a total handle increase of 7% for our Mardi Gras trial card," said Trent McIntosh, Louisiana Downs assistant general manager. "Horsemen work extremely hard to ready their horses for these trials. It was our goal to promote the day and we were gratified at the response of fans here and across the country."
Tony Patterson, executive director of the LQHBA, was onsite for the Mardi Gras Futurity trials.
"Despite the threat of severe weather, the turnout was fantastic," commented Patterson. "Our association applauds Louisiana Downs for their marketing efforts and the creation of a television spot to promote the day. The fans came out for children's activities and food trucks and were able to see fifteen very competitive races as well!"
Additionally, Louisiana Downs increased purses from February 24 -27 by $1,000 per race.
Triumphant Return to the Winner's Circle for Jockey John Hamilton
There were plenty of smiling faces when The Cazador won his trial for the Mardi Gras Derby (see related story) on Sunday, but the biggest grin came from jockey John Hamilton.
The 53-year-old rider was injured in an accident last November at Evangeline Downs and underwent surgery on November 18 to repair his broken leg. It involved the insertion of a titanium rod from the top of his hip to his knee and over 30 staples to close the incision.
"It was a dark time in the beginning," admitted Hamilton. "I wasn't sure if this was an injury that would end my career, or if I would ever be able to walk again."
His surgeon was amazed with his recovery and "Hambone" embarked into his rehabilitation with as much determination as he has shown in his decades of race riding. He acknowledges how much the outpouring of support meant to him over the last three months.
"I was overwhelmed," said Hamilton. "My family, the Taylor family, grooms, pony people, the jockeys who call me "the old rooster" and so many other people called and visited me. Their loyalty was so flattering and meant so much."
Hamilton shared a video on January 10 where he was walking at a brisk pace on the treadmill, as part of his physical therapy. Posted on the LQHBA Facebook page, it got thousands of "likes" and was shared by sixteen followers.
His goal was to begin galloping in February, but not return to race riding until Delta Downs. But his history with The Cazador coupled with encouragement from his connections, changed his mind.
* * * * * * * * * * * * * * * * * *
About Harrah's Louisiana Downs
Located near Shreveport in Bossier City, Louisiana, Louisiana Downs opened in 1974 and was purchased by Caesars Entertainment in December, 2002. With annual Thoroughbred and Quarter Horse racing seasons, the track is committed to presenting the highest quality racing programs paired with its 150,000-square foot entertainment complex offering casino gambling, dining and plasma screen televisions for sports and simulcast racing.