David Alvarez, Jose Carrizales And Rosendo Valdez Earn Titles In The 2021 Louisiana Downs QH Meet
Jennifer Sokol (left), Louisiana Downs Racing Operations Manager, presents the 2021 Louisiana Downs Leading Jockey trophy to David Alvarez.

© Hodges Photography / Ann Switalski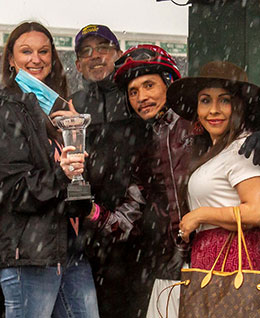 BOSSIER CITY, LA—APRIL 8, 2021—
Louisiana Downs wrapped up its 2021 Quarter Horse meet on Wednesday, April 7.
The 44-day season, which commenced on January 23 was impacted by the major winter storm in Louisiana with sub-freezing temperatures significantly affected both the facility and travel to the Shreveport area. Citing safety for horses and humans, eight days beginning February 13 through February 23 were canceled.
Live racing resumed on February 27 with successful editions of the three major championships of the season. Ruse Ranch LLC's Kk Sandra Patriot triumphed in the first official futurity of the year, the $349,946 Mardi Gras Futurity (RG2). Apollitical High captured the $121,158 Mardi Gras Derby for Rosendo Valdez and TYKHE Racing LLC's On Nyx won the $302,010 Harrah's Futurity (G3).
On Wednesday, April 7, Louisiana Downs honored the leading jockey, trainer and owner of the meet.
David Alvarez won the leading rider title with 45 wins, 26 seconds and 22 third-place finishes. He guided Apollitical High to victory in the Mardi Gras Derby, earning $445,530 throughout the meet and finishing in the money at a 56% clip.
Alvarez began 2020 as the second-leading rider at Louisiana Downs before winning titles at Delta Downs and Evangeline Downs, completing the year with 111 wins, the most wins for a Quarter Horse rider in North America.
"I want to thank God, first, for keeping me healthy," said Alvarez. "Also, to the owners and trainers for giving me the opportunity to ride their horses as well as my agent, Sandy Martin. I am blessed to have the support of my wife, Wendy and our children and look forward to Delta Downs."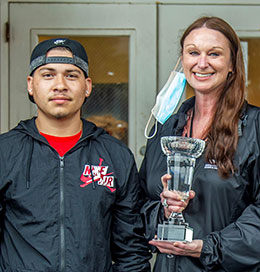 Jennifer Sokol presents Jose Carrizales the Louisiana Downs 2021 Leading Quarter Horse trainer trophy.
© Hodges Photography / Ann Switalski
Arturo Alvarez (no relation to the leading rider), finished second with 25 wins, followed by last year's champion, Ricardo Hernandez, Jr. who rode 19 winners and Ubaldo Luna, finishing with 18 trips to the winner's circle.
Jose Carrizales won his second consecutive training title. The 24-year-old stepped into the spotlight last year topping his fellow conditioners at Louisiana Downs, which was the first leading trainer title of his career. He concluded the 2021 meet with 24 wins from 114 starts and purses of $187,899. Carrizales trains for J & J Stables LLC as was able to add more owners last year as a result of his success at Louisiana Downs.
"This meet has been very good for me," said Carrizales. "I am grateful to my owners for their support and to Ricardo, who does so well on our horses. My farm (in Kaufman,Texas) is just three hours from Louisiana Downs, which makes it easier to ship in. Training and caring for our horses is hard work, but it's what I love to do and hope the success will continue for many years!"
Rosendo Valdez, Jr. saddled 16 winners to finish second in the standings; Kenneth Roberts,Sr., 2020 LQHBA Champion Trainer, followed with 14 top finishes and Lanny Keith, who won the Louisiana Downs trainer title in 2019, was fourth with 13 wins.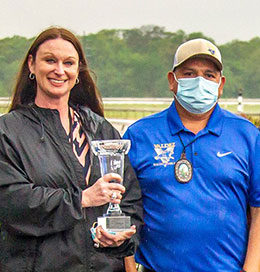 Jennifer Sokol presents the 2021 Louisiana Downs Leading Owner trophy to Rosendo Valdez.
© Hodges Photography / Ann Switalski
The leading owner of the meet was Rosendo Valdez with 12 wins from 21 starts, including the victory by Apollitical High, one of his three finalists in the Mardi Gras Derby. Valdez won the 2020 leading owner title at Evangeline Downs and finished the Louisiana Downs meet with a lofty 57% win statistic.
"We thank our entire team for this title," said Rosendo Valdez, Jr, who trains for his father. "My brothers and cousins all work hard and we could not do it without them. This honor means a great deal; winning at Evangeline Downs was special, and we are blessed to have won two in a row."
The father and son team are committed to racing in Louisiana.
"We have been approached by many people to run horses in Texas, but Louisiana racing has been very good to us, and we are staying here," added Valdez, Jr.
J & J Stables LLC, (Juan J. Bazaldua and Jesus E. Del Bosque), who won the title in 2020, finished second with nine victories. Ismael Ramirez won 6 races and horses owned by Ofelia Rodriguez won five races throughout the meet.
Louisiana Downs is already gearing up for the 2021 Thoroughbred season, which begins May 1.
"We thank our horsemen and fans for their support during our Quarter Horse meet and appreciate their patience in the difficult challenges due to the winter storm," said David Heitzmann, director of racing. "Some very talented horses ran here this season and we wish them all the best as they make their next starts in 2021."
* * * * * * * * * * * *
About Louisiana Downs
Located near Shreveport in Bossier City, Louisiana, Louisiana Downs opened in 1974 and was purchased by Caesars Entertainment in December 2002. With annual Thoroughbred and Quarter Horse racing seasons, the track is committed to presenting the highest quality racing programs paired with its 150,000 square foot entertainment complex offering casino gambling, dining and plasma screen televisions for sports and simulcast racing.