Handle Increases Noted In The 2019 Quarter Horse Live Racing Season At Harrah's Louisiana Downs
The 2019 Louisiana Downs Quarter Horse meet just ended with increases in gains in both on-track and off-track handle.

© Hodges Photography / Ann Switalski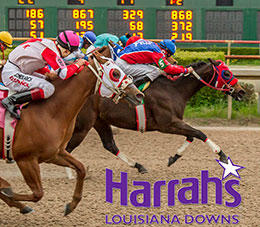 BOSSIER CITY, LA—MARCH 22, 2019—
The 2019 Quarter Horse racing season at Harrah's Louisiana Downs concluded on Wednesday. The 46-day meet, which got underway on January 5, wrapped with many positives from a racing perspective as well as increases in gains in both on-track and off-track handle.
Officials have reported the following numbers and comparison to 2018.
On-track handle
Average per day of $15,936.
Total of $733,038
7.2% increase over 2018
Off-track handle
Average per day of $223,945
Total of $10,301,490
4.4% increase over 2018
Total handle
Average per day of $239,881
Total of $11,034,528
4.6% increase over 2018
Purses Paid
Average per day of $62,118
Total of $2,857,435
Flat vs 2018
Field Size
Starters per race dropped from 7.02 in 2018 to 6.76 in 2019.
"We are very pleased with the positive results from our 2019 Quarter Horse meet.," said Eric Halstrom, Harrah's Louisiana Downs vice president of Operations. "Despite an abnormally rainy winter in Bossier City, which helped contribute to a reduction in our starters per race, we were able to achieve handle increases and run a very safe meet. We thank our horsemen for their participation and appreciate everyone's cooperation in integrating wintertime thoroughbred training into our operations."
Mother Nature cooperated nicely on the two major racing championship days of the season with Hh Gailforce winning the $305,296 Mardi Gras Futurity (RG2) on Saturday, March 16 and Trump This Record capturing the $254,070 Harrah's Entertainment Futurity (G3) on the final day of the meet. Both juveniles have bright futures with Hh Gailforce paid into three upcoming futurities in Louisiana and the connections of Trump This Record pointing their colt to the $1 million Heritage Place Futurity (G1) at Remington Park.
Harrah's Louisiana Downs honored their meet leaders on Wednesday, March 20 with Everardo Rodriguez excelling as leading rider; Lanny Keith defending his trainer title and Jose O. Barron winning 12 races to top his fellow owners.
The 2019 Harrah's Louisiana Downs Thoroughbred meet will get underway on Saturday, May 4. Horsemen can find the first condition book online.
* * * * * * * * * * * * * * * * * *
About Harrah's Louisiana Downs
Located near Shreveport in Bossier City, Louisiana, Louisiana Downs opened in 1974 and was purchased by Caesars Entertainment in December, 2002. With annual Thoroughbred and Quarter Horse racing seasons, the track is committed to presenting the highest quality racing programs paired with its 150,000-square foot entertainment complex offering casino gambling, dining and plasma screen televisions for sports and simulcast racing.