Draw For The Mardi Gras Futurity At Harrah's Louisiana Downs To Take Place Saturday
Tf Shez Jess Dashin posted the fastest qualifying time n the February 23 Mardi Gras Futurity(RG2) at Louisiana Downs.

© Hodges Photography / Ann Switalski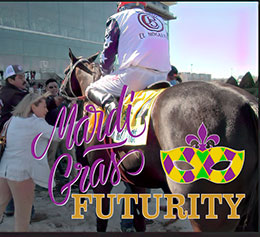 BOSSIER CITY, LA—MARCH 5, 2019—
On Saturday, March 16, Harrah's Louisiana Downs will present the final of the $305,296 Mardi Gras Futurity (RG2). The event is the first official futurity of the year and a victory has major impact for owners, trainers, jockeys and breeders in Louisiana.
Fifteen trials, at the distance of 300 yards, were completed on Saturday, February 23 with Tf Shez Jess Dashin excelling in her career debut and setting the fastest qualifying time of :15.455 seconds.
The filly by Sir Runaway Dash is owned by Down South Racing LLC and trained by Ned Goutierrez III. She was ridden to victory by the meet's leading jockey, Everardo Rodriguez and will likely be installed as the post-time favorite for the final.
The final will be a big accomplishment for each of the connections, but an early futurity win is a welcome boost for the winning Louisiana breeder. Tate Farms in Ville Platte, bred Tf Shez Jess Dashin and stand Sir Runaway Dash, who continues to produce excellent runners, including 2018 Mardi Gras Futurity champion, Guidry Pride II and two winners of the LQHBA Louisiana Million (RG1): Jls Dashn N Zoomin in 2014 and Tf Racee Runaway in 2016.
Tate Farms is owned by the father and son team of Steve and Stephen Tate. Tf Shez Jess Dashin sold for $38,000 at the 2018 LQHBA Yearling Sale with Stephen Tate partnering with Jerry "Buddy" Deville and Jamie Cardenas.
"We knew this filly was going to be good," said Tate. "She has a nice bloodline and looks the part. Former jockey Stevie Gillum broke her and was so impressed that he joked with me that he would try to make weight to ride her in the trials."
Sir Runaway Dash is also the sire of fourth-fastest qualifier, Jrs Sir Pop A Top, who is owned by Patrick Richardson and trained by Joe Davis.
It could also be a big day for Hart Farms in Kaplan, Louisiana, who stand multiple grade 1 sire Freighttrain B. He will be represented by three finalists in the Mardi Gras Futurity: Hh Gailforce; Mr Achievement B and Heza Fast Train B.
Two breeders of first-crop sires will benefit greatly should their juvenile win the Mardi Gras Futurity. Apollitical Blood, who stands at Robicheaux Ranch LLC in Breaux Bridge, bred Escandalo, a filly, who won her schooling race as well as her trial, setting the fourth-fastest clocking. Last year, Robicheaux Ranch's stallion Five Bar Cartel was prominent throughout the year, earning the distinction of the leading first-crop sire of 2018. Another first-crop sire getting this first stakes finalist was Heza Fast Rogue, who joined the stallion roster at Tate Farms. He produced Streakin Fast Rogue, who posted the sixth- fastest qualifying time.
In addition to the Mardi Gras Futurity, the $120,782 Mardi Gras Derby for accredited Louisiana-breds will also be contested. This is the richest purse in the history of the championship, with Tdz Louisiana Toast posting the fastest qualifying time in seven trials run on February 24. The son of Jess Louisiana Blue is owned by Juan F. Martinez and covered 400 yards in a swift :19.565 seconds under rider Manuel Gutierrez. Trainer Josue Ponce will saddle the gelding, who was bred in Louisiana by Tony Doughtie.
The third stakes of the card will be the $15,000 Leverne Perry Memorial, named in honor of the esteemed breeder and Louisiana Quarter Horse Breeders Association (LQHBA) Executive Director Emeritus.
The draw for the Mardi Gras card will take place on Saturday (Mar 9).
Purse Increases Announced for the Final Two Weeks of the Live Racing Season
Harrah's Louisiana Downs is pleased to announce that overnight purses have been increased by $1,200 for the remainder of the 2019 Quarter Horse meet. The adjustment was implemented on Saturday, March 2 and will continue through the conclusion of the racing season on Wednesday, March 20.
"We are pleased to reward our local horsemen for their support throughout the 2019 live racing season," said David Heitzmann, Director of Racing at Harrah's Louisiana Downs. "Our entire staff and management team have been encouraged by the interest from local fans and Quarter Horse players across the country. Judging from the quality of the 2-year-olds competing in trials for both the Mardi Gras and Harrah's Entertainment Futurities, both finals will be extremely competitive and exciting to watch."
The Quarter Horse season continues Saturday, Sunday, Monday and Tuesday with a 1:00 pm (Central) post time. In addition, racing will be conducted on Wednesday, March 13 and March 20, also at 1:00 pm (CT).
LQHBA Scholarship Presentations Set for March 16
Breeding and racing are certainly top priorities for the Louisiana Quarter Horse Breeders Association (LQHBA), but one very important goal of the association is to promote education for Louisiana youth. Since 2001, the LQHBA scholarship program has granted over $550,000 for students attending a higher education institution. In the continuing tradition of combining recognition of youth on big race days, two students will be awarded $2,000 scholarships on Mardi Gras Day, March 16 at Harrah's Louisiana Downs.
Applicants must register in person between noon and 2:00 p.m. (CST) on Saturday, March 16, 2019. A registration table will be located inside the main entrance of the racetrack next to the program stand. Participant/entrant must be a Louisiana High School Graduate or a student who is graduating from a Louisiana High School in 2019 and will attend a higher education institution in the upcoming year. The scholarship is limited to the cost of tuition, books (electronic or printed) and required electronic study materials only, and payment will be made directly from LQHBA to the institution that the recipient attends. For more information, visit LQHBA.com.
Mardi Gras Handicapping Seminar Set for Saturday, March 16
Louisiana Downs track announcer John McGary and regional racing publicist Martha Claussen will team up for a Mardi Gras handicapping seminar on Saturday, March 16 at noon. The free seminar will be held in the Inside Rail, located on the first floor of the grandstand. McGary and Claussen will offer their selections for each of the races on the Saturday card and in-depth analysis of the contenders in the Mardi Gras Derby and Futurity.
Louisiana Downs Trainer, Jockey and Owner Standings
Through March 4, Lanny Keith tops his fellow conditioners with 19 wins. Willie Simien, Jr. is second with 16 wins and Kenneth Roberts, Sr. and Manuel Macias have each saddled 13 winners since the meet began on January 5. Josue Huitron follows closely with 12 wins.
Everardo Rodriguez has been impressive since the meet began in January and is the leader in the jockey standings with 37 wins. John Hamilton, who missed the majority of last year's meet while recovering from a broken leg, is second with 19 trips to the winner's circle. Donald Watson is third with 13 wins and Rolando Cabrera and Ricardo Hernandez, Jr. are tied for fourth place with 12 wins each.
Jose O. Barron tops the leaderboard in the owner standings with eight wins. Geral Dewitt and Gladney1 LLC are tied for second place with five wins each and eight owners have won three races so far in the 2019 Quarter Horse meet.
The presentation of the leading trainer, owner and jockey awards will take place on the final day of the meet, Wednesday, March 20.
* * * * * * * * * * * * * * * * * *
About Harrah's Louisiana Downs
Located near Shreveport in Bossier City, Louisiana, Louisiana Downs opened in 1974 and was purchased by Caesars Entertainment in December, 2002. With annual Thoroughbred and Quarter Horse racing seasons, the track is committed to presenting the highest quality racing programs paired with its 150,000-square foot entertainment complex offering casino gambling, dining and plasma screen televisions for sports and simulcast racing.