Louisiana State Racing Commission Unanimously Approves Delta QH Dates, Meet To Begin June 10
The LSRC unanimously approved the amended 2020 Quarter Horse racing dates for Delta Downs today.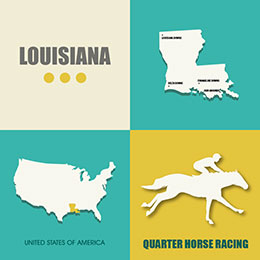 BATON ROUGE, LAŚMAY 20, 2020Ś
In an emergency meeting held today (Wednesday) the Louisiana State Racing Commission unanimously approved the request to amend the 2020 Quarter Horse racing dates for Delta Downs.
Originally scheduled to kick off on April 17th, but delayed due to the Governor's COVID-19 restrictions, Delta Downs 2020 Quarter Horse meet will now get underway on June 10th and continue for 36 race days through August 22.
Delta Downs released an amended Quarter Horse stakes schedule on Tuesday (see related story).
The track will conduct a minimum of nine live Quarter Horse races daily Wednesday through Saturday. Wednesday and Thursday first post will commence at 5:15 PM (CDT) with Friday and Saturday's first posts going off at 6:15 PM (CDT).
For additional information contact Chris Warren, Delta & Evangeline Downs Director of Racing, at 337-589-9020.