No Training In Louisiana? Trio Of Tracks Ignore Commission's Emergency Order
Horsemen at three different Louisiana racetracks have been unable to train for nearly three weeks.

© Evangeline Downs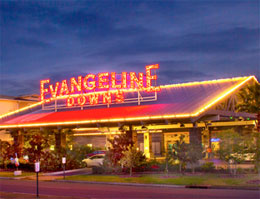 By Chelsea Hackbarth, PaulickReort
Horsemen at three different Louisiana racetracks have been unable to train for nearly three weeks now, despite an emergency order from the Louisiana State Racing Commission (LSRC) handed down on March 20.
Boyd Gaming, the entity that owns both Delta Downs and Evangeline Downs, attempted to order horsemen to leave its properties by Wednesday, March 18, giving them just over 48 hours' notice. In an official statement on March 16, Boyd Gaming said the action was taken in response to the Louisiana governor's closure of all casinos in the state "as a precautionary measure to prevent the spread of the COVID-19 disease."
That measure would have left hundreds of horses and their caretakers with nowhere to go, said Mike McHalffey, one of 13 members of the LSRC.
Dr. Bernard Cooley, equine medical director for the racing commission, said in a conference call on March 20 that both Harrah's Louisiana Downs and the Fair Grounds had agreed to allow horses to stay on their properties to "prevent an even greater humanitarian and equine crisis."
The LSRC's emergency order had four parts. The first was to allow horsemen to shelter in place without threat of eviction for at least the next 30 days; Boyd Gaming has since allowed horsemen and their horses to remain at its two tracks.
However, neither the two Boyd-owned racetracks nor Louisiana Downs have been open for morning training for almost three weeks, in direct conflict with the second part of the LSRC's emergency order: to "allow horsemen access to tracks for training at least every other day."
Meanwhile, the state's fourth racetrack, Churchill Downs Inc.-owned Fair Grounds in New Orleans, has held morning training hours on Monday, Wednesday, Friday and Saturday since cancelling the remainder of its live meet on March 21.
"Racehorses are living, breathing, social animals that not only require constant supervision and care, but must have adequate access to exercise," wrote Dr. Mike Strain, commissioner of the Louisiana Department of Agriculture and Forestry, in a letter to Charles Gardiner, LSRC executive director, dated March 27. "It is not in their best interests to be left in stalls for extended periods of time without significant exercise including time on the walker and training.
"Specifically in reference to training," Strain continued, "it is my opinion that in addition to exercise on the walker, it is critical to the health and welfare of the horses that they be allowed to exercise and continue to train on the track as it is vital to long term muscle tone and stamina as well as strength and integrity of joints, ligaments and tendons."
Rather than comply with the LSRC's emergency order, Boyd Gaming filed and was granted a temporary restraining order.
"When we put out the emergency order, Boyd chose to file a restraining order on us," said LSRC commissioner Mike McHalffey. "Everybody all around the country is trying to do the right thing, and Boyd does this.
"Boyd's license to own and operate a racetrack is a privilege and not a right," McHalffey added. "By having that privilege, there's some responsibilities that come with that. The responsibilities to take care of the people and horses on the backside come with the privilege of having a license."
A hearing on the Boyd Gaming restraining order was originally scheduled for Friday, March 27. That hearing was rescheduled for Friday, April 3, and again rescheduled to Monday, April 5 at 10:00 a.m.
"Our number one priority is to have training for our horses and horsemen," said Ed Fenasci, executive director of the Louisiana Horsemen's Benevolent and Protective Association. "We support the commission's emergency order and have provided briefs to the commission's attorney."
One of those briefs is a survey of how other states and racetracks are handling and classifying racing and training during the unprecedented coronavirus pandemic. It can be seen here.
It is unclear why Louisiana Downs has not continued to offer morning training hours. Horsemen were initially given a schedule that showed training would resume on March 23, but that did not happen.
According to Fenasci, Louisiana Downs told the LaHBPA that it was completing scheduled maintenance of the track surface. That maintenance is usually scheduled to take one week.
The LaHBPA sent an official letter to track operator Caesar's Entertainment on Thursday, April 2, requesting clarification as to when morning training would resume and what the schedule would be. As of Friday evening, there has been no response to that letter.
Caesar's Entertainment officials have not returned calls requesting comment.
Another Caesar's-owned racetrack, Indiana Grand in Shelbyville, In., has been allowing morning training to continue four days per week.
"[Caesar's is] saying they don't want to do anything against the governor, but we're the voice of the governor," McHalffey continued. "I hope they don't follow the same road as Boyd. I just hope they take a look at what they're doing at their other properties, and what other tracks are doing around the country, and do the right thing."
Courtesy PaulickReort.