Louisiana Quarter Horse Breeders Association Scholarships Up For Grabs This Weekend
LQHBA will award another $20,000 in scholarships on Saturday night at Evangeline Downs.

© LQHBA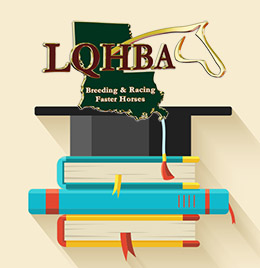 OPELOUSAS, LA—DECEMBER 17, 2021—
LQHBA will offer another five scholarships on Saturday night at Evangeline Downs during the LQHBA Louisiana Million Night. The association, who has awarded more than $700,000 in scholarships to eligible Louisiana students, will hold a drawing for five $2,000 scholarships on Saturday at the Opelousas racetrack.
LQHBA Executive Director Bruce Salard appeared on the KLAF NBC News 15 in Lafayette today (Wednesday) to discuss the associations lucrative scholarship program. CLICK HERE to watch the interview.
Applicants must register in person beginning at 4:30 p.m. Saturday, December 18th at the LQHBA Scholarship registration table located at the foot of the elevator on the casino level. The "live scholarship drawing" will be held in the winner's circle following the fifth race and entrants must be eligible to win.
Scholarship participant/entrant must be a Louisiana High School graduate or student who is graduating from a Louisiana High School in 2022 and planning to attend a higher education institution. Louisiana residents enrolled in a Louisiana college or university are also eligible. Scholarship is limited to the cost of tuition, books (electronic or printed) and required electronic study materials only.
The proceeds of the scholarship will be paid directly to the educational institution the recipient attends. Scholarships are subject to approval by the LQHBA board. All scholarship recipients are required to participate in promotional photos receiving their scholarship award certificate and publication of any contest entry submissions.
For additional information visit the association website at lqhba.com or call (318) 4887-9506.