To the LQHBA Membership from J.E. Jumonville - 4/13/19
2019 LQHBA Hall of Fame Inductee J.E. Jumonville and his wife Bunny.

©†Courtesy Jumonvile Farms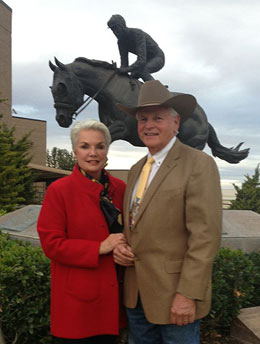 God has blessed me with my wife Bunny, who is an Angel (for putting up with me for 54 years), three sons, three daughters-in-law and 10 grandchildren that are as diverse as any person could imagine.
They are all good people to the core (thank you Lord).
Without this family, there may not be a Jumonville Farm. I can tell you that without Dutcher it would not be what it is today. And thank you to all our employees that help make it work. Irene, Robin, Dee, Ms Barbara and many others.
Thank you to ALL who have bred to Jumonville stallions and to all buyers of the foals we raise. Thank you to the partners that believed in us and our horses. Thank you to the breeding farms that helped without side stallion selection for our mares.
And thank you to the trainers, assistant trainers, grooms, hot walkers, vets, vet assistant s, blacksmiths, jockeys, exercise riders, jockey agents, valets, track pony help, outriders, gate starter, entire gate crew, handicappers, announcers and ambulance EMS. . .it takes a team.
Thank you to the many people who help us advertise and promote Jumonville Farms... our social media manager (Amanda Glidden), both publications; TRACK Magazine and Monday Report (Ben & Christine Hudson), Speedhorse Magazine (John & Susan Bachelor), and StallioneSearch.com (David Smith and Greg Thompson).
Thank you for helping us receive this honor.
At 76-years-old-I am still trying to develop the talent God gave me. It is a never ending process . I have found that you learn something NEW every day in this business. (It's never gets boring).
Jumonville Farm is breeding and raising horses that can WIN anywhere. We just CHOOSE to live in LOUISIANA to do it.
Itís a lifetime of work to breed a GREAT HORSE. You have to love the process because there are more DOWNS than UPS, BUT WHAT A RIDE IT IS WHEN THE UPS ARRIVE.
Through the years Jumonville Farm has SOLD or BOUGHT the high-seller at the Ruidoso Select; Heritage Place, LQHBA, Lone Star, BF Phillips, Texas Thoroughbred and even the Keeneland Select Yearling Sale in Lexington, Kentucky (what I have learned in this process is you have a lot more friends when you are buying than when you are selling).
In 1968 I traded a bull for my first race horse and he won five consecutive races at Evangeline Downs (I was hooked). About that time, an older gentleman asked me a question that set me back.
"How can you tell that God does not Love You?"
I have lived long enough to prove that man wrong. Because I know now God loves us all to much to give up on us, (but there was a time I had my doubts).
To breed, raise, own, race and stand two stallions, champion Jess Louisiana Blue and two-time G1 winner Feature Mr Jess, both Accredited Louisiana- bred and both Leading sires by Mr Jess Perry, is an incredible BLESSING.
I am humbled to receive this honor along with Mr Jess Perry. Because without Mr Jess Perry there would not be Jess Louisiana Blue and a Feature Mr Jess and without them I probably would not be standing here tonight.
I want to encourage all, BUT ESPECIALLY THE YOUNG PEOPLE in our business. If you LOVE HORSES, and think you would like to make it your profession GO FOR IT (you will figure out how to make it work).
My friend "Johnny" T. L. Jones once said to me, "If you can pay your bills by selling horse semen, DO IT."
And another nugget he gave me, "No matter how rough times get, STAY IN THE BUGGY, JUST STAY IN THE BUGGY (his way of saying donít give up).
We have a good Accredited Louisiana-Bred Program. However, we must work to make it better. I suggest, bring Quarter Horse and Thoroughbred owners, breeders and trainers into one family, THE LOUISIANA RACE HORSE FAMILY.
In closing, a partial quote, that is appropriate for the moment:
"Letís not confuse the applause of others with the will of God. Lets make sure all the glory goes to the giver of our influence, skill and giftedness."
From me and my family, a big thank you to my Lord and Savior Jesus Christ. I have dedicated my life to "A Tradition of Equine Excellence."
Thank you all, for this honor and I humbly receive it.
J. E. Jumonville, Jr.