Attention: LQHBA Members – ACTION NEEDED!
Fair Grounds Race Course is again attempting to shuffle the 2019 Quarter Horse meet from its usual August/September dates.

© Fair Grounds Race Course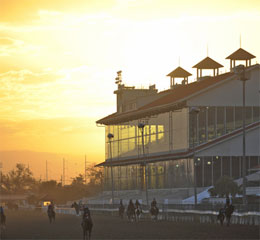 ALEXANDRIA, LA—JANUARY 24, 2019—
In a letter to LQHBA members today (Jan. 24), LQHBA Executive Director Tony Patterson said the Fair Grounds Race Course is once again attempting to move the 2019 Quarter Horse meet from its usual August/September dates to late July/mid-August.
The proposed dates would mean the Quarter Horse meet at the Fair Grounds would begin three weeks earlier than normal. These dates would negatively impact the Quarter Horse racing and breeding industry in the state.
The final night of the 2019 Delta Downs Quarter Horse meet is July 6. That would be less than three weeks for 2-year-olds, that run on closing night of the Delta Downs meet, to have to start in trials for the LQHBA Sale Futurity(RG1) at Fair Grounds.
"Those horses need more time to be able to compete at the Fair Grounds," Patterson said.
The LQHBA Yearling Sale, one of the top Quarter Horse yearling sales in the nation, scheduled for August 1-3, 2019 in Kinder, Louisiana, would be held in direct conflict with the proposed Fair Grounds meet.
The Louisiana HBPA has yet to answer the question if they support the Quarter Horse Racing and Breeding Industry on this issue, or if they are in support of Fair Grounds.
With a statement of purpose that reads "Horsemen Helping Horsemen"—the Louisiana HBPA will hopefully make the "correct call".
All LQHBA members are asked to contact Louisiana HBPA Board Members today and ask for their support to continue the Fair Grounds Quarter Horse meet, beginning in mid-August . . . just as it has be run since 2012.
CLICK HERE for a list of Louisiana HBPA Board members.
"First and foremost we want to thank all LQHBA members for your support and hard work in making accredited Louisiana-Breds and our LQHBA program the very best," Patterson said. "With success, we must remain diligent in protecting our program."