Racing At Louisiana Downs Postponed Due To Flooding
Flood waters near Louisiana Downs has forced an evacuation of the backside for safety reasons.

© Jennifer Grimes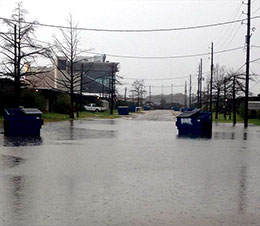 by Greg Thompson, Stallionesearch.com
BOSSIER CITY, LA—MARCH, 11, 2016—Stallionesearch.com confirmed early this afternoon that indeed that Saturday's running of the $273,054 Mardi Gras Futurity(RG2) and the $86,190 Mardi Gras Derby(G2) is postponed due to weather, according to a track official.
With the evacuation of horses from the backside of Louisiana Downs and with the continued threat of more rain in the forecast for the Bossier City area, track officials made the decision to postpone the race cards for the remainder of the weekend.
Also entries will not be taken this weekend at the racing office, as management decides the fate of rescheduling two key stakes event with the remaining race dates available.
The 2016 Louisiana Downs Quarter Horse race meet is scheduled to close with the running of the Grade 3 $263,00 Harrah's Entertainment Futurity on March 23.