HorseManDon Posts Weekly Videos From Delta Downs
Delta Downs track announcer Don Stevens is posting interviews with Delta Downs Quarter Horse trainers preparing for April 21st Quarter Horse opening night.

© Delta Downs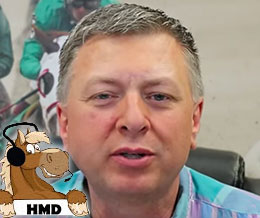 VINTON, LA—MARCH 24, 2017—
Delta Downs Track Announcer Don Stevens posts ''HorseMan Don'' YouTube videos weekly from the southern Louisiana racetrack.
In preparation of the 2017 live Quarter Horse season, set to kick off Friday, April 21st, HorseManDon caught up a couple of Quarter Horse trainers this week at Delta Downs. The videos feature discussions about the Trey Ellis and Kenneth Weeks racing stables for the upcoming Delta Downs season the will run through Saturday, July 8th.
Stevens has graciously agreed to share these videos over the coming months with StallioneSearch.com.
To watch the Trey Ellis interview CLICK HERE.

To watch the Kenneth Weeks interview CLICK HERE.

StallioneSearch will continue to post '''HorseMan Don'' videos through the Quarter Horse racing season at Delta Downs. They can be found on the HorseManDon YouTube channel or in the Delta Downs Report video section on StallioneSearch.