John L. Soileau, Hemp Meyers To Be Inducted Into 2018 LQHBA Hall Of Fame March 24
Owner John Soileau will join Hemp Meyers as 2018 inductees to the LQHBA Hall of Fame on March 24.

© Courtesy LQHBA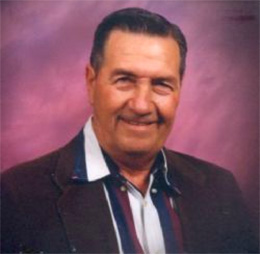 ALEXANDRIA, LA--FEBRUARY 16, 2018--
Outstanding Louisiana Quarter Horse breeder and owner, John Lionel Soileau, Sr. and noted racehorse and stallion Hemp Meyers will be inducted into this year's Louisiana Quarter Horse Breeders Association (LQHBA) Hall of Fame.
This is the third year that LQHBA has named its recipients. The ceremony, in conjunction with the annual LQHBA Membership Meeting & Awards Banquet, will take place on Saturday, March 24 at the Evangeline Downs Events Center in Opelousas, Louisiana.
John Lionel Soileau, Sr.
It would be difficult to find a Louisiana horseman who loved horses as much as John Soileau.
"We came up as a farming family and it was hard work," acknowledged Soileau's oldest son Darrel. "But on Sundays, after Church, we piled into the truck and headed to the bush tracks."
The founder of JLS Speedhorse Ranch, Inc., Soileau was the owner of 1,377 Quarter Horses and many who not only won stakes races but shone the spotlight on Louisiana breeding and racing.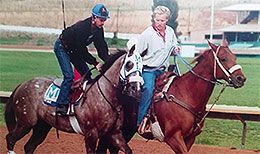 Royal Bushwhacker and jockey Alvin "Bubba" Brossette on the back side of Ruidoso Downs racetrack.
ca. 1991, Ruidoso Downs
Royal Bushwhacker, a son of Behold a Beduino, was one of Soileau's first stakes winners. After breaking his maiden at Delta Downs and winning the $77,315 Firecracker Futurity, he showed so much potential that he was sent to Ruidoso Downs to compete in trials for the All American Futurity.
During his 3-year-old season he defeated world champion and three-time Champion of Champions winner Refrigerator and stakes winner and leading sire Takin On The Cash in a trial for the All American Derby at Ruidoso Downs. In a blanket finish in the 1991 All American Derby final, only a head and a neck separated the top three finishers: See Me Gone, Refrigerator and Royal Bushwhacker.
Royal Bushwhacker closed out his career in 1992 with 13 wins and earnings of $290,770. He was inducted into the inaugural LQHBA Hall of Fame.
AQHA Racing Champion Jls Mr Bigtime qualifying for the $1.9 million All American Futurity(G1) at Ruidoso Downs.
© Gay Harris / Ruidoso Downs
"That gray horse was really special," stated Darrel. "He put daddy where he deserved to be."
Additional stakes winners included Do It To It Reb, Get It Reb, Captain Lyles and Ms Pilot Point. Noted champions, bred by JLS Speedhorse Ranch, LLC included JLS Party Wagon, JLS Streak of Snow and JLS Book of Psalms.
But without a doubt, the most prolific homebred for Soileau was JLS Mr Bigtime, the multiple-graded stakes winner who earned $1,031,037 throughout his exceptional career. He ran second in the 2010 All American Futurity (G1) and was honored as 2010 AQHA Racing Champion 2 year old gelding.
JLS Dashn And Zoomn winning the 2014 $1 million LQHA Breeders' Futurity-RG1 (now the LQHBA Louisiana Million Futurity at Evangeline Downs.
© Coady Photography
It was a special Labor Day weekend as his showing in the prestigious race garnered unprecedented attention for Louisiana Quarter Horse racing. A contingent of over 100 family members and supporters made the trip to Ruidoso Downs and rooted for JLS Mr Bigtime to become the first Louisiana-bred to win the All American Futurity.
"Daddy cried that afternoon," said Darrel. "JLS Mr Bigtime got bumped and ran second, but that's horseracing. "He was so proud of the horse and having so many family members and friends with him to share the day."
Soileau bred Shaken Thru Zoom, a Shazoom mare who produced 2014 LQHBA Breeders Futurity winner, Jls Dashn And Zoomn. Darrel Soileau recalls the naysayers doubting the mare's ability to produce a champion.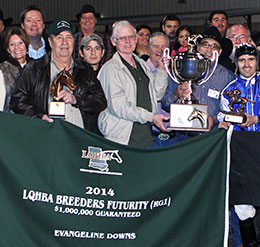 Breeder John Soileau picutured in the winner's circle of the 2014 $1 million LQHA Breeders' Futurity-RG1 after breeding winner JLS Dashn And Zoomn.
© Coady Photography
"Daddy never let talk like that bother him," said Darrel. "He researched mares, sometimes going back three generations. He always believed in crosses, but more importantly, in himself."
Darrel remembered arguing with his father when he purchased a club footed mare for $7,500.
"I could not believe that he wanted me to train that mare," recalled Darrel. "She never won a race, but as a broodmare produced a nice foal that won over $200,000."
Soileau received numerous awards from both the American Quarter Horse Association (AQHA) and LQHBA.
He passed away on December 9, 2017, at the age of 81, at his home in Opelousas, Louisiana, but will be well-represented at this year's Hall of Fame Ceremony. John's wife, Bernadine, sons Darrel, Glen and Johnny and daughter Stephanie and their children will be in attendance for the family patriarch's induction into the LQHBA Hall of Fame.
"We are all so proud of daddy," stated Darrel. "Louisiana racing and breeding meant so much to him. He grew up in hard times and was a Cajun with strong opinions. But he was kind to everyone and bred some really special champions."
Hemp Meyers
Last year, William Albert Darling was inducted into the LQHBA Hall of Fame. "W.A." was honored for his legacy as a Louisiana Quarter Horse breeder and owner. An active LQHBA board member, Darling served as president in 1984 and 1990.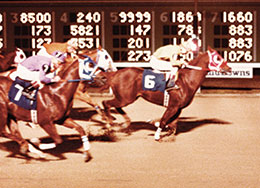 Hemp Meyers qualifying for the Old South Futurity at Delta Downs.
ca. 1980 / Courtesy Speedhorse Magazine
This year, one of Darling's superior horses, Hemp Meyers, will join John Soileau in the LQHBA Hall of Fame. The son of Hempen out of the Mr Meyers mare Miss Fancy Meyers, was foaled on February 1, 1978. He made his racing debut in 1980 at Delta Downs and won four of his 13 starts. Stakes-placed in the Old South Futurity and Firecracker Derby, wrapping up his racing career on October 11, 1981 with earnings of $58,889.
"Some horses just seem to steal your heart and my dad really loved his mare, Miss Fancy Meyers," said Karen Darling Falgoust. "Hemp Meyers was her first foal and dad adored him. He spent a lot of time with him and they had a very special relationship."
Hemp Meyers made a successful transition to the breeding shed, siring 273 performing foals that earned $2,949,349. His most successful sons included Horseplayers Hemp, with a 105 speed index who earned $200,387, with a stakes record of five wins, five seconds and five thirds. Candy Man Hemp earned $189,180 with a record that included two stakes wins. Hog Heaven and Plunder Bayou were also stakes winners whose earnings exceeded the $100,000 mark.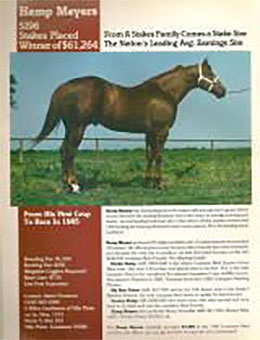 Hemp Myers was advertised at stud in Quarter Horse Racing magazines.
ca. 1985
Louisiana horseman Glenn Fontenot had a steadfast friendship with W. A. Darling which grew deeper when they agreed to a partnership on the breeding of Hemp Meyers.
"I saw W.A. at the races at Delta; he told me he had heard that I had lost my stallion," recalled Fontenot. "He offered me a share of a horse he was considering sending to stud, but I told him that the stallion I wanted was Hemp Meyers."
Fontenot cited Hempen as a stallion and Miss Fancy Meyers as a good mare. But he also saw talent in Hemp Meyers as a runner.
"He broke his maiden in trials for the All American Futurity," said Fontenot. "I liked that about him!"
The two men embarked upon a 50-50 partnership and Hemp Meyers stood stud on Fontenot's farm in Ville Platte. In his first year, 128 mares were bred to Hemp Meyers with an impressive 118 in foal.
"He was a natural and the easiest stallion I ever collected," said Fontenot.
In 1982, Fontenot bred his mare Johnnie's Flash to Hemp Meyers. A strapping filly was born at around 2:00 am on February 27, 1983. He remembers that W. A. stopped by the next morning, took one look at the filly and thought she was two weeks old. That filly was Flashy Hemp, who went on to win 12 of her 20 starts, earning $283,632. The Flashy Hemp Stakes at Delta Downs is run in April, named in honor of the champion mare.
Fontenot told Darling that Hemp Meyers was no longer producing semen when he turned 30. Darling simply responded by asking that the prolific stallion did not suffer. He died at 31, but Fontenot had a difficult time telling W.A. that Hemp Meyers had passed.
"W. A. and I were very close," stated Fontenot. "I waited about a month before I broke the news."
W.A. Darling died at the age of 90 in 2011. He was inducted into the LQHBA Hall of Fame last year. His daughter Karen carries on the racing and breeding business as manager of Darling Farms, LLC, the family's 5.26-acre property in Opelousas.
"Hemp Meyers was almost like the first grandchild for my dad," added Falgoust. "He was crazy about that horse!"
LQHBA Hall of Fame Inductees
On April 9, 2016, Leverne Perry and Claude and Bessie Lea Jeane, Oh Black Magic, Rocket's Magic and Royal Bushwhacker were inducted into the Louisiana Quarter Horse Breeders Association (LQHBA) inaugural Hall of Fame. The ceremony was held in conjunction with the 50th anniversary of the association.
Prominent Louisiana Quarter Horse breeders and owners, Lee Berwick and W.A. Darling were feted last year along with equine champions Vicki Meyers, Streakin La Jolla and Heisajoy.
"Our board of directors spend considerable time in selecting individuals and racing champions for the LQHBA Hall of Fame," stated Tony Patterson, LQHBA executive director. "We are looking forward to saluting John Soileau and Hemp Meyers in this year's class. Our goal is to ensure that each inductee is celebrated for the significant role they have played in Louisiana breeding and racing."
* * * * * * * * * * * * * * *
LQHBA is the state racing affiliate of the American Quarter Horse Association. It is also the official registry for accredited Louisiana-bred racing Quarter Horses and is recognized by the Louisiana Legislature and the Louisiana State Racing Commission. Since its inception in 1966, the association has developed many programs to further breeding and racing in Louisiana.
Last year in Louisiana horsemen competed for over $21 million in purses, and breeders' incentives for mares and stallions of accredited Louisiana-bred foals totaled approximately $4.8million. LQHBA oversees the annual LQHBA Yearling Sale and Fall Mixed Sale and has raised and donated over $500,000 to support its Louisiana youth scholarship program.