Martinez, Weeks and Stevens Take Top Honors for Louisiana Downs QH Meet
Louisiana Downs 2016 Leading Quarter Horse Jockey Eddi Martinez.

© Hodges Photography / Lou Hodges, Jr.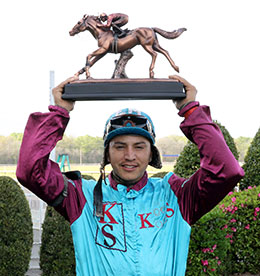 BOSSIER CITY, LA—MARCH 23, 2016—
Jockey Eddi Martinez, trainer Kenneth Weeks and owner Julien R. Stevens, III were named the leaders in their respective divisions for the just completed 2016 Louisiana Downs Quarter Horse race meet.
The jockey title came to down to the wire on Wednesday's closing card as jockey Eddi Martinez eked out a two race lead over Antonio Alberto to be named the meets "Leading Jockey".
Martinez rode 30 winners for a 22% win percentage and earned $218,789. He also finished with 20 seconds and 12 horses to show for a 46% in the money ratio.
Alberto had 28 winners and Alfonso Lujan finished third with 23 winners.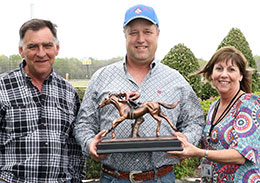 Vicky Walker presents the "Leading Trainer" trophy to Kenneth Weeks Wednesday afternoon at Louisiana Downs.
© Hodges Photography / Lou Hodges, Jr.
Kenneth Weeks scored the "Leading Trainer" title by saddling 18 winners from 54 starts with earnings totaling $107,704. He also had six to place and two third thirds for a 48% in the money ratio.
Orlando Orozco finished second in the trainer standings with 15 wins and Carlos Saldivar and Willie Simien, Jr. each had 14 wins.
Julien R. Stevens, III was named the meet's "Leading Owner" following a 38% win ratio with eight winners from 21 starts. The top owner also had horses finish with three seconds and three thirds to be in the money at a 67% clip, earning $47,950.
Geral Dewitt finished the season with seven wins from 60 starts for second and Joseph Landreneau was third off six wins from 22 starts.