2017 LQHBA Lassie Futurity(RG2) Race Preview
StallioneSearch.com kicks off their weekend coverage of the Lassie and Laddie Futurities at Delta Downs today with the Lassie Preview webcast.

© StallioneSearch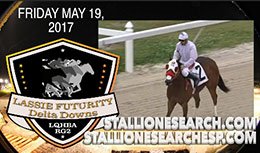 by Greg Thompson, StallioneSearch
VINTON, LA—MAY 19, 2017—Stallionesearch.com begins its webcast coverage of the 2017 LQHBA Lassie Futurity(RG2) and LQHBA Laddie Futurity(RG2) from Delta Downs in Vinton, Louisiana.
On this episode, Stallionesearch.com previews the upcoming LQHBA Lassie Futurity's top three qualifiers going into the 330-yard event. This year's Lassie Futurity carries with it a record $322,285 purse for the restricted-Grade 2 event.
CLICK HERE to watch the Stallionesearch.com webcast of the 2017 LQHBA Lassie Futurity(RG2) preview from Delta Downs.
The coverage of the Lassie and Laddie Futurities is the fourth and fifth installment of the 2017 Louisiana Quarter Horse Racing Series on Stallionesearch.com and StallioneSearch En Español.
Throughout the 2017 racing calendar in Louisiana, StallioneSearch and StallioneSearch En Español will be providing onsite coverage for 12 total stakes races including:
Mardi Gras Futurity
Mardi Gras Derby
Harrah's Entertainment Futurity
Lassie Futurity
Laddie Futurity
Firecracker Futurity
Firecracker Derby
Lee Berwick Memorial Futurity
Louisiana Classic Stakes
Delta Downs La Bred Derby
LQHBA Breeders Million Futurity
LQHBA Breeders Derby
Coverage of the restricted Grade 2 Lassie and Laddie Futurities is sponsored entirely by the Louisiana Quarter Horse Breeders Association.
In 2016, the LQHBA awarded more than $4.4 Million in breeders' awards, as well as a half-million dollars in stallion awards. Each year in August, the LQHBA hosts the LQHBA Annual Yearling Sale in Kinder, Louisiana. LQHBA' headquarters is located in Alexandria. For additional information visit the association website at lqhba.com.