Louisiana Downs To Match Funds For Three LQHBA Scholarships To Be Drawn Sunday, March 27
Three drawings of $2,000, a total of $6,000 will be offered Sunday, March 27th to Louisiana students wishing to further their education.

© Courtesy LQHBA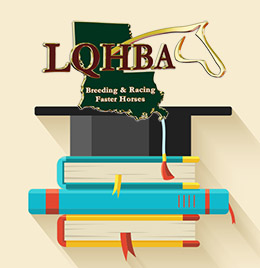 ALEXANDRIA, LA—MARCH 10, 2022—
The rewards will be plentiful for both Louisiana-bred Quarter Horses and Louisiana students on Sunday, March 27 at Louisiana Downs, The Bossier City racetrack will host the final of the $324,288 Mardi Gras Futurity (RG2), the first official test for 2-year-olds in the country as well as the $106,964 Mardi Gras Derby.
The afternoon will also offer the first opportunity of the year for eligible Louisiana students to receive scholarships courtesy of the Louisiana Quarter Horse Breeders Association (LQHBA) Scholarship Fund. In an unprecented first, Louisiana Downs will generously contribute $3,000 to boost the among of the three LQHBA Scholarships. Three drawings of $2,000, a total of $6,000 will be offered to Louisiana students wishing to further their education.
"We are tremendously grateful to Kevin Preston and his team at Louisiana Downs for their generosity in matching funds for the three scholarships" said Bruce Salard, LQHBA executive director. "This is a first for us and their willingness to support students who wish to further their education is greatly appreciated! We look forward to welcoming Louisiana students and their families to Louisiana Downs on Sunday, March 27 for an exceptional day of racing."
Scholarship entrants must be a Louisiana High School graduate or a Louisiana High School student graduating in 2022 planning to attend a higher education institution. Louisiana residents enrolled in a Louisiana College or University are also eligible.
Students can sign up at the LQHBA Scholarship Registration Table (located at the foot of the escalator on the casino level), beginning at 11:00 am. Registration will close after the third race of the afternoon program and LQHBA board members, Louisiana Downs officials and special guests will conduct the drawings live in the winner's circle after race four. Students must be present to win.
While the primary goal of the LQHBA is to promote breeding and racing in the state, the association remains dedicated to furthering higher education for Louisiana youth. The scholarship program was the vision of the late Jim Mitchell and Leverne Perry and is supported strongly by the LQHBA and its board members. Since its inception in 2001, the LQHBA scholarship program provided over $700,000 for Louisiana students.
CLICK HERE for complete details the Sunday, March 27th drawing.
For more information on the LQHBA Scholarship Program and eligibility requirements, visit LQHBA.com or call the LQHBA office in Alexandria at (318) 487-9506.