Alvarez, Garcia, Ellis, Knight Take Delta's Leading Horsemen/Women Honors For 2020 QH Season
Juan F. Garcia, Jr. (left) and David Alvarez share the 2020 leading rider title for Delta Downs just completed Quarter Horse meet.

© Coady Photography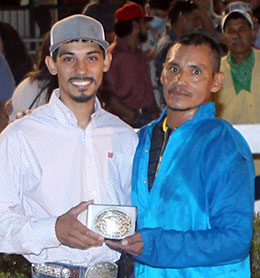 VINTON, LA—AUGUST 24, 2020—
Delta Downs concluded its 2020 American Quarter Horse season on Saturday night with a program tabbed as Louisiana Showcase Night. After the card was completed the track honored its leading horsemen/women for the 36-day stand which began on June 10.
The leading rider title came down to the final race of the season as David Alvarez capped off a four-win night with a victory in the $1,025,782 Lee Berwick Futurity (RG1) aboard San Lorenzo. In the process he tied Juan F. Garcia, Jr. in the standings with 37 wins for the season.
It was the second local title for Alvarez, who had 223 mounts on the meet. It was Garcia's first Delta Downs title as he made 167 trips to the starting gate.
Alvarez also lead all jockeys in terms of earnings this season as his mounts took home a total of $1,276,929.
His total rose dramatically on closing night. Not only did he win the richest race of the season, the Lee Berwick Futurity, he also scored with Lifeinthefastlanes in the $276,825 Delta Downs Derby (RG3), Eysa Jess Jumpn in the $50,000 Flashy Hemp Stakes, and Happie Happie Happie in the $40,000 Louisiana Starter.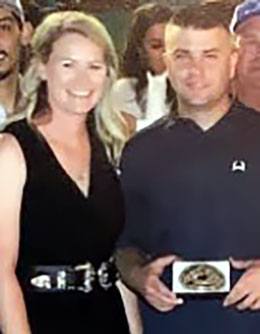 Trey Ellis wins his first leading trainer title at Delta Downs.
© Coady Photography
Garcia also had a big win on closing night as he booted home Louisiana Dressblues in the $50,000 Live Oak Stakes for trainer Trey Ellis. Many of Garcia's wins this season came aboard Ellis trainees as he became the barn's first-call rider after six-time Delta Downs leading jockey John Hamilton was injured early in the season. This was also the first season Garcia has ridden at Delta Downs.
Following Alvarez and Garcia in the standings this season were Everardo Rodriguez (35 wins), Luciano Duenez (24), Ubaldo Luna (20), Rolando Pina (14), Eddie Sanchez (14), Noe Castaneda (11), Rolando Cabrera (11), and Antonio Alberto (10).
Trey Ellis won his first leading trainer title at Delta Downs this season by saddling 28 winners from 107 starters. His runners earned a total of $400,501, which ranked fifth among conditioners.
This was the first leading trainer title for Ellis, who competed with Kenneth Roberts, Sr. for the top spot all season long. Roberts, who won 25 races this season and was honored with the title of American Quarter Horse Association World Champion Trainer in 2017, has won nine Delta Downs leading trainer titles during his career.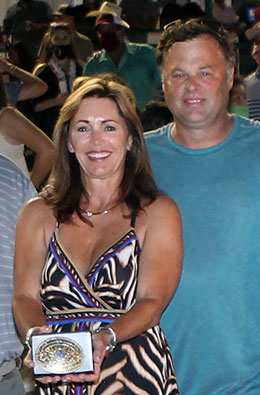 Rayne Knight, with husband Michael Zingelmann, accept the 2020 Delta Downs Leading Owner trophy.
© Coady Photography
The leading trainer in terms of earnings was Jesus Marquez, whose runners took home $841,386. The lion's share of that amount came from San Lorenzo by way of his win in the Lee Berwick.
Rounding out the top 10 trainers for the season by wins were Lanny Keith (21), Jose Luis Sanchez, III (16), Miguel Rodriguez (15), Martin Trejo (10), Michael Zingelmann (10), Fructuoso Huitron (9), Orlando Orozco (9), Adrian Huitron (9).
The leading owner title for 2020 went to Rayne Knight, who saw 10 or her horses make it to the winner's circle and earn $134,380, which ranked ninth. It was the first local title for Knight, whose husband Michael Zingelmann trains her horses.
The leading owner in terms of earnings were Rogelio Marquez, Jr., whose horses won $841,386. The majority of that amount, $512,891, came from San Lorenzo's win in the Lee Berwick Futurity.
Following Knight in the owner standings by wins were Rogelio Marquez, Jr. (9), Gene Cox (9), Juan Antonio Carrillo, Sr. (7), Jose O. Barron (5), Runaway Racing, LLC (Stephen Tate and Jerry Deville, Jr.) (5), Jose U. Oviedo (5), Geral Dewitt (4), Mercy Hinklin Horse Farm, LLC (Mercy Hinklin) (4), Jason Richards and Michael J. LeBlanc (4).
Delta Downs will now prepare for its 2020-21 Thoroughbred season which runs from October 6 through February 27. The track will conduct live racing each Wednesday through Saturday night beginning at 5:25 pm.
For more information about the season visit the track's website at deltadownsracing.com.
* * * * * * * * * * * * * * * * * * * * *
Delta Downs Racetrack Casino and Hotel, a property of Boyd Gaming Corporation (NYSE:BYD), features exciting casino action, live horse racing and fun dining experiences. Delta Downs is located in Vinton, Louisiana, on Delta Downs Drive. From Lake Charles, take Exit 7 and from Texas, take Exit 4.