Contestant on NBC's ''The Voice'' Has Ties to Quarter Horse Racing
Gyth Rigdon, the son of American Quarter Horse trainer Paul Rigdon, is a contestant this season on the four-time Emmy Award-winning television show "The Voice" on NBC.

© The Voice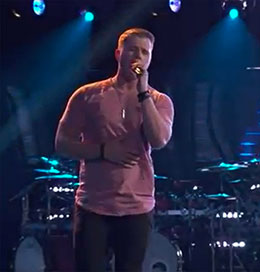 Q-RACING—FEBRUARY 26, 2019—
Gyth Rigdon, the son of American Quarter Horse trainer Paul Rigdon, is a contestant in four-time Emmy Award-winning television show "The Voice" on NBC.
Singer, Louisiana native Gyth grew up helping at his dad's training operation and was a familiar face at Louisiana racetracks. Paul has saddled more than 1,500 starters that have earned more than $2.5 million in their careers. Gyth says his dad was instrumental in encouraging his music career dream.
"My dad has been there since day one," Gyth wrote on his website. "I'm proud to say that he has supported me every step of the way. He has never doubted me and always pushed me to work harder. My dad is my hero."
A teary-eyed Paul can be seen in the family group watching the performance on the video clip provided by "The Voice." CLICK HERE to watch Monday night's Blind Audition.
Gyth's music is a mix of southern rock, country and soul. He has two albums, titled "When I'm Gone" (2018) and "Where I Began" (2016). His singles include, among others, the song "Body Language."
"The Voice" is a singing competition series in which the winner determined by television viewers. Its current season began February 25, and Gyth was featured singing the song "Drift Away."
"The Voice" airs on NBC on Mondays and Tuesdays at 8/7c.
* * * * * * * * * * * * * *
AQHA News and information is a service of the American Quarter Horse Association. For more news and information, follow @AQHARacing on Twitter, watch the AQHA Racing Newscast and visit aqha.com/racing.