Harrah's Louisiana Downs 2020 QH Meet Set For Saturday
Jockey Everardo Rodriguez returns to Louisiana Downs off a record year that began with the title here last March.

© Hodges Photography / Ann Switalski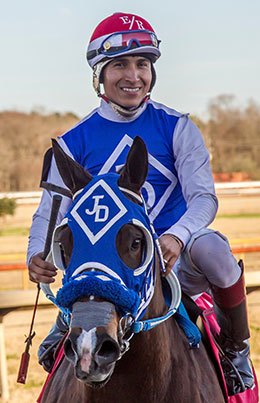 BOSSIER CITY, LA—DECEMBER 30, 2019—
The 2020 Quarter Horse racing season at Harrah's Louisiana Downs begins on Saturday, January 4. The 46-day meet includes 12 stakes highlighted by the first official championship for 2-year-olds, the $100,000-added Mardi Gras Futurity (RG2) on March 14.
Due to the response from horsemen for the first Louisiana Downs stakes of the season, two divisions of the $15,000 Harrah's Dash will be run on Opening Day (see related story).
Leading Rider Everardo Rodriguez Finishes out the Year as the Top Jockey by Wins
Jockey Everardo Rodriguez returns to Louisiana Downs off a record year that began with the title here last March. He won 47 races and kept his momentum going as he captured leading rider honors in the 2019 at Delta Downs meet, winning 51 races. His success continued in the 10-day Fair Grounds live meet with 21 victories. Rodriguez was able to snare the title at Evangeline Downs, winning 37 races. He completed 2019 as the top North American Quarter Horse jockey in wins with 158 wins and $2.2 million in purses. He will likely join James Flores and Ricky Ramirez as finalists for AQHA champion jockey honors.
Always humble, Rodriguez is grateful for the support from his family and horsemen in achieving the success in just the seventh year riding professionally.
"I am very blessed by God and am thankful to every trainer I ride for," he stated. "It does not matter if I am on a maiden or a futurity horse; I try to win every race I ride."
Rodriguez, 30, has enjoyed 2019 for many reasons, but is especially thrilled to be joined by his brothers, Jose, 27 and their younger brother, Leo, 18, who made his debut in his first year as a Quarter Horse jockey. The three brothers rode together at Fair Grounds at Evangeline Downs.
Each of the brothers has a nickname. Everardo is "locito", which means a little crazy; Leo is dubbed "seco" or dry and the most interesting goes to Jose who goes by "la máscara" or "mask". He got that nickname when he was the horseback riding stunt double for the filming of Zorro in Mexico!
The brothers grew up in San Luis Potosí, a city in central Mexico and remain very close with their family. They talk, almost on a daily basis, with their parents and grandfather, who had them on horseback as toddlers.
"There are no words to describe how much family means to me," said Rodriguez. "It is amazing to look over and see my brothers riding in the same race! Plus, my cousin, Cesar, who is 18, has asked me to help him learn. I am really enjoying that as well!"
He has risen to the top of the Louisiana Quarter Horse circuit in a very short time. From his professional debut in 2013, Rodriguez was honored as 2018 LQHBA Champion Jockey (in a tie with Luis Vivanco).
Rodriguez rides for multiple trainers, but one of his most longstanding associations is with Martin Trejo. The noted Louisiana-based horseman has seen Rodriguez advance up the ranks and credits both is riding skill and positive demeanor.
"Everardo works hard and always has a smile on his face," stated Trejo. "He communicates his notes on horses very well, which is very helpful. Having such a good year was no surprise as his skills continue to improve and he is gaining confidence as a rider."
Rodriguez will be very prominent in the Louisiana Downs jockey colony when the meet begins this Saturday. That will be his focus; he does not set further goals.
"I have always believed that God has the right plan for me," said Rodriguez. "Goals are not important to me; I love what I do and know that with the foundation of God and my family, everything else will work out fine."
Road to Kentucky Handicapping Contest Begins on January 18
Harrah's Louisiana Downs is hosting an exciting on-track handicapping contest called the Road to Kentucky Handicapping Contest. It will begin on Saturday, January 18 with major stakes races and Kentucky Derby prep races featured each Saturday through May 2. Fans can register at the contest table adjacent to the program stand with weekly prizes awarded and points accumulated toward the $1,000 grand prize.
* * * * * * * * * * * *
About Harrah's Louisiana Downs
Located near Shreveport in Bossier City, Louisiana, Louisiana Downs opened in 1974 and was purchased by Caesars Entertainment in December, 2002. With annual Thoroughbred and Quarter Horse racing seasons, the track is committed to presenting the highest quality racing programs paired with its 150,000 square foot entertainment complex offering casino gambling, dining and plasma screen televisions for sports and simulcast racing.