Delta Downs Quarter Horse Report - Episode 1
Episode 1 of the 2015 Delta Downs Quarter Horse Reports is now available.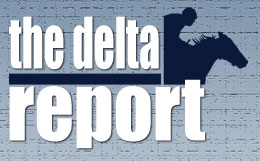 VINTON, LAŚMAY 1, 2015Ś
Stallionesearch releases Episode 1 of the
The Delta Downs Quarter Horse Report
today, highlighting the Quarter Horse racing action of the 2015 Quarter Horse meet at the Vinton, Louisiana racecourse.
Episode 1 focuses on the recapping the trials of the RG2 Lassie and Laddie Futurities, the RG3 John Alleman Memorial Stakes and the Delta Dash Stakes. Episode 1 also unveils the Stallionesearch.com Stallion Spotlight. This week's Sire Spotlight goes to the sire Coronas Leaving You.
CLICK HERE to watch Episode 1.
The Delta Downs Report is co-sponsored by the Louisiana Quarter Horse Breeders Association, the
Delta Equine Center
,
Louisiana Center For Equine Reproduction
,
Robicheaux Ranch, Inc.
and
Tate Farms
.