Ashlee Hatwig Wins Mardi Gras Scholarship Essay Contest
LQHBA will host a number events during the Mardi Gras Futurity and Derby day Saturday, March 12 at Louisiana Downs.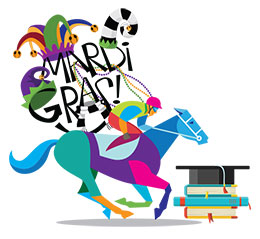 ALEXANDRIA, LA MARCH 4, 2016
Ashlee Hatwig, a Senior at Oak Hill High School in Elmer, Louisiana submitted the
winning essay
for the LQHBA Mardi Gras Futurity Scholarship contest.
Ms. Hatwig will be present at Louisiana Downs on Saturday, March 12 to accept her $3,500 award certificate. (See link at bottom to read essay)
Robicheaux Ranch, Inc., TRACK Magazine and LQHBA sponsored the contest for college-bound Louisiana High School graduates and 2016 Louisiana High School Seniors.
The RG2 $273,053 Mardi Gras Futurity final for Louisiana-bred 2-year-olds and the RG2 $88,190 Mardi Gras Derby, for Louisiana-bred 3-year-olds, will be the feature races on Louisana Downs Race Card, Saturday, March 12.
Two additional $1,000 Mardi Gras Futurity scholarships will be awarded during a live drawing immediately following the third race Saturday, March 12.
Applicants must register in person between 11:30 and 1:30 p.m. (CST) on race day (March 12, 2016). A registration table will be located inside the main entrance of the racetrack next to the program stand. Participant/entrant must be a Louisiana High School Graduate or a student who is graduating from a Louisiana High School in 2016 and will attend a higher education institution in the calendar year of 2016. The scholarship is limited to the cost of tuition, books (electronic or printed) and required electronic study materials only.
LQHBA will also a hold a Wild & Zany Mardi Gras Outfit contest at the track. The contest is open to everyone and patrons are urged to wear their craziest Mardi Gras outfit to enter. Judging will take place immediately following the 4th Race in the Louisiana Downs winner's circle and a $500 gift card will be awarded to the winner.
CLICK HERE to read Ms. Hatwig's winning essay.