Rescheduled Stakes Finals, Serving Youth and Zany Costumes On Tap Sunday at Louisiana Downs
LQHBA has a host of activities planned for Mardi Gras Futurity/Derby Day at Louisiana Downs Sunday.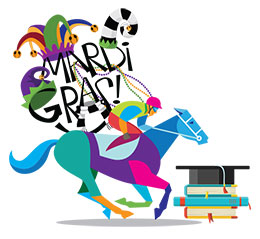 BOSSIER CITY, LAŚMARCH 15, 2016Ś
In addition to the rescheduled finals of the 2016 Mardi Gras Futurity and Derby, there is much more in store on Sunday, March 20 at Louisiana Downs!.
The Louisiana Quarter Horse Breeders Association (LQHBA) continues to promote education for Louisiana youth. Since 2001, the LQHBA scholarship program has granted over $380,000 for students attending a higher education institution.
With the support of sponsors, Robicheaux Ranch, Inc and TRACK Magazine, two $1,000 Mardi Gras Futurity scholarships will be awarded during a live drawing immediately following the third race Sunday, March 20.
Applicants must register in person between 11:30 and 1:30 p.m. (CST) on race day (March 20, 2016). A registration table will be located inside the main entrance of the racetrack next to the program stand. Participant/entrant must be a Louisiana High School Graduate or a student who is graduating from a Louisiana High School in 2016 and will attend a higher education institution in the calendar year of 2016. Scholarship is limited to the cost of tuition, books (electronic or printed) and required electronic study materials only.
LQHBA will also a hold a Wild & Zany Mardi Gras Outfit contest at the track! The contest is open to everyone and patrons are urged to wear their craziest Mardi Gras outfit to enter. Judging will take place immediately following the fourth Race in the Louisiana Downs winner's circle and a $500 gift card will be awarded to the winner.
Post time for Sunday is 1 pm (CDT).
CLICK HERE for complete information on all of Saturday's Mardi Gras Futurity/Derby activities.