K.C. Carden Loses Battle With Cancer
K.C. Carden, pictured with wife Candice and daughter Kamryn.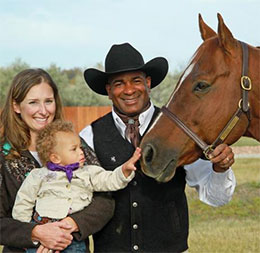 SHERIDAN, WY—FEBRUARY 14, 2018--
Longtime horseman K.C. Carden died Tuesday following a battle with cancer. He was 50.
K.C. was born on May 10, 1967, and grew up in Dallas. A high school and college star in track and field, his ability in the 4x400 meter relay earned him a track scholarship to Oklahoma State University in Stillwater, Oklahoma, and placed him as an alternate to the 4x400 meter relay team in the 1984 Olympics held in Los Angeles.
His competitive spirit was a perfect fit for training racehorses, and he began training full-time in 1991. Over the course of 19 years, K.C. saddled 515 winners from 3,673 starters and horses that earned more than $4.6 million.
Among the horses he saddled were champions Toast To Dash, Kool Kue Baby and Winalota Cash.
He also trained Grade 1 and Grade 2 winners A Touch Of Victory, his own Brindis Por Cayenne, I Opening Sensation and Gone Kool Man.
As an owner, he had 44 winners from 304 starters that earned $817,927. Led by Brindis Por Cayenne ($453,174), they also included GW Chick, Sport Tau, KR Fancy Cartel and JD Phantom.
K.C. was one of the top trainers and owners in the Bank of America Racing Challenge program, winning the leading trainer award in 2004, 2008-09 and leading owner in 2006-07. He and partner David Stanford's S Bar S Racing enjoyed leading owner awards in 2008-2009.
He married wife Candice in 2006, and they operated Y O Equine and Powder River Veterinary Hospital and Supply in Sheridan, Wyoming.
They have a daughter, Kamryn.
Services are tentatively scheduled for February 24 in Sheridan. Further details will be posted as they become available.
Courtesy AQHA Racing