Lt. Governor Billy Nungesser and Louisiana Office of Tourism Launch Equine Tourism Initiative
New program to draw horse enthusiasts to Louisiana's premier equine facilities and events.

© Courtesy USMC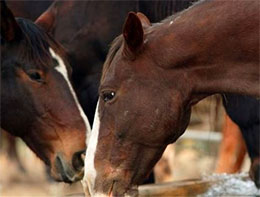 BATON ROUGE, LA—MAY 23, 2017—
Last Saturday Lt. Gov. Billy Nungesser and the Louisiana Office of Tourism unveiled a new Louisiana Horse Tourism program, intended to draw visitors to state parks, racetracks, campgrounds, therapeutic riding centers, and other events and facilities.
The announcement was made during an exclusive press conference in conjunction with the 4th Annual Louisiana Quarter Horse Association Crawfish Classic Series, a leading equine event held at the John M. Parker Coliseum on Louisiana State University's campus.
"From riding and breeding to racing, Louisiana is home to some of the finest equestrian services in the country," said Lt. Gov. Nungesser. "Many top performing athletes and horses call Louisiana home and we are one of the top three horse producing states in the country. Louisiana has an exciting adventure awaiting riders of all levels – with picturesque trails winding through our state parks, forests and bayous."
As part of the announcement, leaders from the state's horse industry, including the Louisiana Quarter Horse Association, Louisiana Quarter Horse Breeders Association and the Louisiana Thoroughbred Breeders Association highlighted the state's flourishing horse racing and breeding businesses as well as the positive impact that the equestrian industry has made on the state's economy.
"We are a top producing horse economy and many top performing athletes and horses were born and bred here in Louisiana," continued Nungesser.
"The horse industry remains a top ten Louisiana agriculture business, which generates more than $2 billion a year, and this horse tourism initiative will continue to position Louisiana as a leader in the equine industry," he said.