2021 Mardi Gras Futurity Nominations Due
Nominations for the 2021 restricted Grade 2 $250,000-est. Mardi Gras Futurity are due Sunday, November 15th.

© Lou Hodges Photography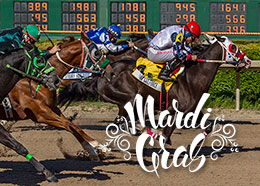 ALEXANDRIA, LA—NOVEMBER 9, 2020—
Nominations for the 2021 restricted Grade 2 $250,000-est. Mardi Gras Futurity are due Sunday, November 15th. All accredited Louisiana-bred foals of 2019 are eligible to nominate to the $100,000 added 300 yard race for 2-year-olds.
Horsemen and women must pay $300 to nominate on or before November 15th. A second payment of $400 will be due on or before December 15th and $500 to enter the trials will be a total of $1,200 in payments.
CLICK HERE for a Mardi Gras Futurity(RG2) nomination form.
Please mail all payments via Trackable Mail (FedEx or Certified Mail) to:
LQHBA
105 Carlyon Lane
Alexandria, LA 7130
Write a separate check for different owners and please identify all payments with the name of the race and the name of the horse.
Dates for the trials and finals for the race to be conducted during the 2021 Louisiana Downs Quarter Horse Meet have not been announced.
For additional information visit the association's website at lqhba.com or contact Sonya Melder (Nomination Secretary) via phone at 318-487-9506 ext. 202 or via email at: nominations@lqhba.com.