Celebration Of Life Set Tuesday, May 31 For Louisiana Quarter Horse Breeder Margaret McKerley
Louisiana Horse breeder Margaret McKerley passed away on on May 19, 2022.

© Courtesy Margaret McKerley Family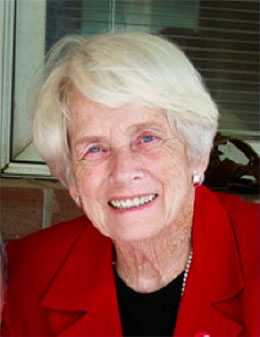 ZACHARY, LA–MAY 27, 200–A writer once said that the best parts of us are reflections of the people who have loved us selflessly.
Margaret Langford McKerley leaves behind many people who know this to be true as she etched into each of us words of encouragement, lessons in faith, grace, patience, compassion, and unconditional love – coupled with a witty comment or two. Margaret was welcomed into the arms of her heavenly father on May 19, 2022.
A celebration of life will be held Tuesday, May 31, at 11 a.m. at Baker Presbyterian Church, 3015 Groom Road, Baker, Louisiana, with Rev. Charlene Heaton officiating. Visitation will precede the memorial from 9 - 11 a.m.
Lovingly called "Chee Chee" by her father at her birth in Opelousas, Louisiana, on January 2, 1931, Margaret was the youngest of three girls. The daughter of parents from Tennessee and Georgia, she was raised with all the graciousness, charm and strength of her southern roots. Margaret fondly recalled memories of her father working at his newspaper The Clarion News (later known as The Daily World) and shared his love of the outdoors. She spoke of Sunday suppers shared with her mother and sisters after church. She attended Opelousas High School, then Southwestern Louisiana Institute (now ULL) alongside her mother, with whom she shared a special graduation day. She later went back to school and graduated with a master's degree in Special Education.
Around 1952, she accepted a teaching job in Jackson, Louisiana, where a young man from Oklahoma named C.O. "Mac" McKerley saw "a cute little redhead push mowing the grass" at her home and told his friend, "I could marry a girl who can push-mow a yard." That friend told him she taught at the local high school and there was a homecoming dance coming up. He was quite the dancer and swept her off her feet. A few months later they were wed, uniting in a marriage that blessed both of their lives, as well as all of those around them, for 59 years.
From Jackson they moved to Lake Charles, Louisiana, and then, in 1958, to Baton Rouge, where they settled to raise their three children. In 1987 they moved to a farm in Zachary, Louisiana, where they lived out their retirement years.
Together, they enjoyed dancing with their friends as members of the Big Timers Dance Club and the Ladies of Bal Masque. Through the years she loved to gather the family at the beach each summer and shared many a morning cup of coffee on the balcony watching the waves.
Raised in First Presbyterian Church in Opelousas, Margaret was a devoted member of Broadmoor Presbyterian in Baton Rouge. She served as church secretary, as an elder and was on the New Church Development Committee. After moving to Zachary, she joined Baker Presbyterian Church where she served as an elder and bookkeeper. She enjoyed her time in Presbyterian Women, Louisiana Cattlemen's Association, Plantation Cowbelles Association, Portfolio Book Club and Philanthropic Education Organization (P.E.O.), Chapter W. She was past president of the M&M Club (Margarita & Martini Club) of the American Quarter Horse Association. She played tennis growing up and loved to watch sports on TV – it has been said she knew more about SEC sports than Joe Alleva!
In her final years, she enjoyed pickleball, working out with her "Pilates girls," gardening, and special memories traveling with her family to Oklahoma, Alaska, and even the Galápagos Islands. She ran the family farm until age 90, coordinating operations and climbing through wire fences to feed horses twice a day.
C.O. was an AQHA director, and Margaret found excitement in racing her homebred horse Flying Adelia, who won the 2021 LQHBA Louisiana Million Invitational.
We are proud she was our mother, grandmother and friend. All held hands to pray around her dinner table, as was the tradition from her upbringing. "Is not that beautiful?" she would say when admiring a sunset. She enjoyed antique shopping, a good auction, setting a beautiful table to entertain at her home and sharing a glass of wine with her good friend, Julie Knight.
She never met a task she would not tackle - changing the oil in the car or mowing the lawn on a cub tractor while wearing a floppy hat and enjoying a glass of white wine. She made a truly delicious chocolate pie and taught us the value of a life well lived.
There are not adequate words to convey the love we shared.
Chee Chee will be lovingly remembered by her children: Nannelle "Nonnie" Noland (Carra Sergeant) of Ragley, Louisiana; Nathaniel McKerley (Gina) of Pensacola, Florida; and Margaret "Libby" McKerley of Baton Rouge, Louisiana; their seven grandchildren: Jerry "T.J." Noland (Kacey) of Houston, Texas; Margaret Landry Pernici (Michael) of Baton Rouge, Louisiana; Kate Landry Varisco (Ryan) of Baton Rouge, Louisiana; Abigail McKerley Smith (Michael) of Baton Rouge, Louisiana; Zachary McKerley (fiancée Meg Weeren) of Miami, Florida; Hannah McKerley of Dallas, Texas; and Grace McKerley of Pensacola, Florida; their eight great-grandchildren: Kassidy Gunn Bermudez (J.D.) and William Braden Gunn of Houston, Texas; Crawford Mitchell, Margaret Leolene, Elizabeth Grace, and Miller Phillips Pernici of Baton Rouge, Louisiana; and Ann Langford and Mitchell Calvin Varisco of Baton Rouge, Louisiana.
She was preceded in death by her husband Calvin Odell "Mac" McKerley; siblings Leolene "Jibby" Fox Morton of Monroe, Louisiana and Nan Elizabeth Mitchell of Opelousas, Louisiana; and parents James Nathaniel and Nanelle Coney Langford of Opelousas, Louisiana.
In lieu of flowers, her family requests donations be sent to P.E.O. Chapter W (Scholarship Fund) 13300 Shady Haven, Walker, LA 70785 or Baker Presbyterian Church, 3015 Groom Road, Baker LA, 70714.
The family would like to thank all who loved and cared for Margaret in her final days, including Dr. Deepak and Bridgeway Hospice.
Our beloved Chee Chee, it is hard to let you go but we must. "Shall we gather at the river? Where bright angel feet have trod, with its crystal tide forever flowing by the throne of God."