LQHBA Scholarship Fund Assists Six Students on Louisiana Million Night
From left: Racing Commissioner Kenneth Romero, Rep. Mike Huval, St. Landry Parish D.A. Earl Taylor, LQHBA president Ryan Robicheaux, Senator Neil Riser, Kurt Ryder, Kent Ryder and Senator Gerald Long with the LQHBA Scholarship winners.

© Coady Photography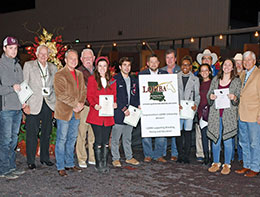 OPELOUSAS, LA—DECEMBER 15, 2018—
Saturday, December 15 was a memorable night for the connections of Mpshinning, winner of the LQHBA Louisiana Million (RG1) at Evangeline Downs. Six Louisiana students were also elated as recipients of $15,000 in scholarships courtesy of the Louisiana Quarter Horse Breeders Association (LQHBA) Scholarship Fund.
With Senators Gerald Long and Neil Riser, as well as other prominent legislators assisting with the drawings, six students will be able to further their education in 2019. Winners of $2,000 scholarships were Kaelyn Moore; Jace Gilbert; Jaxon Dugas and Sage Bischoff. In addition, Lauren Thomas received the $2,000 Paul Ryder Memorial Scholarship, named in honor of one of the founding members of LQHBA, who passed away this year at the age of 85. The final drawing, for the $5,000 scholarship went to Gena Daigle of Carencro, Louisiana.
The LQHBA Scholarship Fund was the vision of the late Jim Mitchell and Executive Director Emeritus Leverne Perry, and is supported strongly by the LQHBA and its board members. Over $570,000, has been earmarked for this program since its inception in 2001.
Tony Patterson, LQHBA executive director, acknowledged the support Hart Farms, Robicheaux Ranch and Knorpp Bloodstock Insurance Agency, LC. Hart Farms donated a breeding to stallion Freighttrain B in the 2018 LQHBA Fall Mixed Sale and Robicheaux Ranch generously offered a breeding to Jet Black Patriot during the 2018 LQHBA Yearling Sale.
"It was a thrill for our association to see the smiles on the faces of the six LQHBA Scholarship recipients on Saturday night," said Ryan Robicheaux, LQHBA president. "We hope that some of these fine young people will make their livelihood in the Louisiana equine industry once they complete their education."
For more information on the LQHBA Scholarship Program, visit LQHBA.com or call the LQHBA office in Alexandria at (318) 487-9506.