Louisiana State Racing Commission To Hold Meeting Monday
The Louisiana State Racing Commission will conduct a meeting on Monday to show cause on why the Fair Grounds should not be enjoyed from requiring applicants in 2019 and afterwards to release or waive their legal claims.

© Fair Grounds Race Course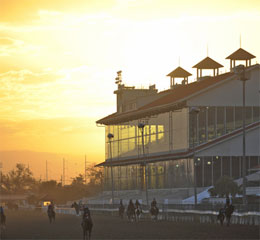 NEW ORLEANS, LA—JULY 17, 2019—
The Louisiana State Racing Commission posted a notice today that it will hold a meeting on Monday (July 22) at 10 am in the conference room of the Louisiana State Racing Commission at 320 North Carrollton Avenue, Suite 2-B, in New Orleans.
The meeting is a request for rule to show cause filed by Plaintiffs in lawsuit entitled Soileau et al vs. Churchill Downs Louisiana Horseracing Co., LLC and Churchill Downs Louisiana Video Poker Co., LLC.
The commission has granted the expedited hearing in the matter as follows:
Rule to Show Cause why the Fair Grounds should not be enjoyed from requiring applicants in 2019 and afterwards to release or waive their legal claims in order to obtain a stall at Fair Grounds, pursuant to Paragraph 2 of the 2019 Fair Grounds Quarter Horse Stallion Application.
All interested parties are requested to comment.