2018 LQHBA Yearling Sale, The Quality Is There . . .Future Champions Await
You Drive I Fly winning the 2017 LQHBA Louisiana Million Futurity(RG1) at Evangeline Downs.

© Coady Photography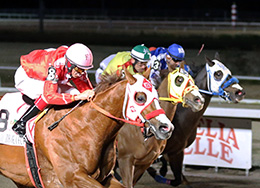 By Martha Claussen
ALEXANDRIA, LA—JULY 25, 2018—The Louisiana Quarter Horse Breeders Association (LQHBA) is in final preparations for its 42nd annual Louisiana Bred Yearling Sale. Prospective buyers will have an opportunity to preview and bid on 633 yearlings at the annual event, which is held at the Coushatta Casino Resort Pavilion in Kinder, Louisiana.
The first 150 yearlings will enter the sale ring on Thursday, August 2, beginning at 5:00 pm. The remaining horses will be sold on Friday, August 3 and Saturday, August 4, beginning at 10:00 am.
Each year, the LQHBA Yearling Sale continues to offer quality-racing prospects at very affordable prices. The catalogs have been distributed to prospective buyers across the country, the sale prepping is in its final stages and the bidding is just days away!
Breeders Readying Their Stock
The growth and success of the annual LQHBA Yearling Sale would not be possible without the tremendous support of breeders in Louisiana and throughout the country. The major agents and consignors this year include Blanchet Farms, Roger Daly, Delta Equine Center, Hart Farms, Grant Farms, J/B RacingJumonville Farms, Robicheaux Ranch, S & E Sales Prepping, Spring Hill Farms and Tate Farms. They attract quality mares and stallions and continue to set the bar higher each year in the breeding of superior racing champions.
Kim and Chris Blanchet, owners of Blanchet Farms in Ville Platte, have 79 yearlings in their consignment this year. Kim explains what has transpired for the last two months prior to their trip to Kinder.
"Chris and his staff work with the babies six days a week," explained Kim. "Working in the round pen and swimming get them fit. They are taught "manners" and how to stand so they will show well in the sale ring."
Close to 300 prospective buyers have visited Blanchet Farms over the last two months and Chris and Kim were happy to have them take a closer look. "Sometimes a yearling does not catalog well," she said. "Looking at a yearling in person is an important part of the process."
Sale prepping is a big part of their business and while each farm has a different policy on fees; Blanchet Farms has never done business at a commissioned rate.
"We charge a day rate and flat fee for sale prepping and working the sale," adds Kim. "We believe in giving the same service to each of our owners and the same attention to a yearling, whether they sell for $7,000 or $50,000.
Nice Accomplishment for Spring Hill Farms
David Dunn, owner of Spring Hill Farms in Kaplan, Louisiana, is readying 13 yearlings for this year's sale. Although Dunn has been around horses his entire life, he has just been a breeder since 2011. With a hard-working team in place, he is building quite an impressive résumé, with the past two Lee Berwick Futurity winners coming from D & S, a partnership between Spring Hill Farms and Sherry Dunn.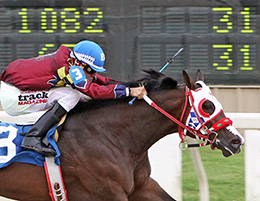 Multiple graded stakes winner Dashnunder Afullmoon sold at the 2016 LQHBA Yearling Sale for $44,500.
© Coady Photography
In 2017, Dashnunder Afullmoon was purchased for $44,500 by Rogelio Marquez, Jr. and $11,500 was an astute buy from Jose Estrada Quarter Horses for this year's winner, Eysa Jess Jumpn. who delivered a standout performance on July 7 at Delta Downs.
"Dashnunder Afullmoon was a standout," recalled Dunn. "You couldn't find a flaw with her. "Eysa Jess Jumpn is a small filly with a huge heart. We are thrilled that we bred back-to-back Lee Berwick Futurity champions."
Both fillies were sired by Heza Fast Dash, and Dunn gives high marks to the veteran Louisiana stud.
"I don't think there is a better stallion in Louisiana, or maybe anywhere in the country," he stated.
Many of the top horsemen in the region have visited Spring Hill Farms to preview Dunn's yearlings, but he was not amenable to offers prior to the sale.
"We are breeders and want to grow Spring Hill Farms," explained Dunn. "The LQHBA Yearling Sale gives me that opportunity. I'm steadily improving my stock and have 20 mares on the farm."
In addition to catalog pages, Spring Hill Farms and several other breeders have gone the extra mile with "Flip Books", in which prospective buyers can easily view color images and all the relevant pedigree information without having to navigate the entire sale catalog.
Eysa Jess Jumpn is the Latest Success Story
Every year there is always a compelling story about a young horse, purchased at the LQHBA Yearling Sale, who surpasses expectations and yields a huge return on investments for their connections.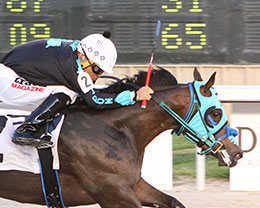 Lee Berwick Futurity(G1) winner Eysa Jess Jumpn sold in the 2017 LQHBA Yearling Sale for $11,500.
© Coady Photography
Eysa Jess Jumpn owned by Jose Estrada Quarter Horses, won this year's Lee Berwick Futurity, and rewarded his owner Jose Estrada, with a big check and thrill of a lifetime,
The young owner was encouraged to attend his first sale by his friend and trainer, Josue Huitron.
"My trainer told me I needed to go to the sale and buy a yearling so we could win big races," Estrada said following the Lee Berwick Futurity trophy presentation.
Mission accomplished as a for her modest $11,500 ticket, Eysa Jess Jumpn has already earned $372,800. She is eligible for both the LQHBA Sale Futurity at Fair Grounds as well as the LQHBA Million this December.
In this year's $700,000 Lee Berwick Futurity (RG1), nine of the ten finalists were LQHBA Yearling Sale graduates. All but one sold for well under $50,000 with the owners of The Mighty Moose signing a ticket for just $6,200.
Of course, Eysa Jess Jumpn is far from the first sale graduate to reward an owner with a substantial return on investment. Jess A Saint, a son of Jess Louisiana Blue, sold for $7,200 at the 2013 LQHBA Yearling Sale. Bred by Jumonville Farms in Ventress, Louisiana, he was purchased by owner Julio Rios. The next year, Jess A Saint won the 2014 LQHBA Breeders Futurity (RG1) at Evangeline Downs. He accepted a check for $445,000, the winner's share of the richest Quarter Horse race in Louisiana.
Jls Dashn And Zoomn, bred by JLS Speed Horse Ranch Inc., of Opelousas, Louisiana was a $7,500 purchase at the 2013 LQHBA Yearling Sale. He has earned more than $500,000 for his owner Jose Guzman.
Tate Farms of Ville Platte bred TF Racee Runaway and offered him in the 2015 LQHBA Yearling Sale. When the bidding did not meet their goal, the Tate family bought back their colt for $8,000. He scored a neck victory in the 2017 LQHBA Louisiana Million, and has eclipsed the half-million dollar earnings mark for the Tate family.
Lucrative Racing Opportunities in Louisiana
The LQHBA is the official registry of accredited Louisiana-bred Racing Quarter Horses. They run two sales each year, the LQHBA Yearling Sale and a Fall Mixed Sale. Louisiana continues to be the leading state-bred program in the country with over $4.76 million dollars in mare and stallion awards paid in 2017.
Graduates of the LQHBA Yearling Sale are entitled to compete in the 2019 LQHBA Sale Futurity (RG1), with an estimated purse of $400,000, which traditionally runs in September at Fair Grounds.
Breeding to Benefit the LQHBA Scholarship Program
In addition to furthering breeding and racing in the state, LQHBA, its board of directors and association members are dedicated to promoting higher education for Louisiana youth. Since its inception in 2001, the LQHBA scholarship program has earmarked over $550,000 for Louisiana students to attend a higher education institution.
As a fundraiser for the scholarship fund, a breeding to Jet Black Patriot will be auctioned live on Friday, August 3, immediately after the sale of Hip number 250. This has been a very successful fundraiser with generous support from the owners of FDD Dynasty in 2016 and Jess Louisiana Blue last year. A decision was made this year that the tradition would continue with the winning sire of the LQHBA Louisiana Million to offer the annual breeding.
Jet Black Patriot who stands at Robicheaux Ranch, is the sire of You Drive I Fly, the impressive winner of the 2017 LQHBA Louisiana Million. Re-purchased by Janelle and Richard Simon for $20,000 at the 2007 LQHBA Yearling Sale, the stunning black colt quickly garnered attention as a 2-year-old, winning the $545,649 LQHBA Breeders'
Futurity in 2008 and finishing second to Stolis Winner in the $2 million All American Futurity (G1). He retired with earnings of $876,921 and has followed his success on the racetrack with a highly successful stud career. His progeny has earned $11 million to date.
"We thank Copper Spring Ranch and Robicheaux Ranch for their generosity and support," said Tony Patterson, LQHBA executive director. "Jet Black Patriot has contributed so much to Louisiana racing and breeding and we know the bidding for the breeding will raise considerable funds for our Scholarship fund."
Hospitality Plays an Important Role
With several major sales in the country, the Louisiana Quarter Horse Breeders Association knows the importance of offering quality yearlings and also creating an enjoyable experience for sale attendees.
On Thursday evening the LQHBA is sponsoring a Jambalaya dinner free for all prospective buyers. Drink specials during the sale include $2.00 cocktails on Thursday evening; $1.00 beer for each of the three days and cocktail service at the tables surrounding the "make-up" ring.
Coushatta Casino Resort Pavilion continues to be an excellent venue for the sale. Attendees enjoy the ambiance, comfortable hotel accommodations, dining and gaming. Improvements in recent years include live online coverage as well as a booth with interpreters for Spanish-speaking buyers. Purchases can be made with approved checks, cash or credit cards.
Steady Growth of the Sale
The first LQHBA Yearling Sale began in 1977 with just 39 yearlings. As the sale continues to grow, each year new connections travel from all regions in the United States as well as Canada and Mexico to bid on their future racing champion.
"We have received numerous compliments on both the quality of the yearlings and the overall operation of our sale," said Ryan Robicheaux, LQHBA president. "Year after year, we are getting closer to producing the top yearlings in the country. With the strong incentives of our breeding program, we are seeing an increase, not just in Louisiana, but with out of state interest. Top connections are sending their mares and stallions to Louisiana. It's a trend you don't see everywhere and we are proud of our steady growth."
* * * * * * * * * * * * * * * * * * * * * * * * * *
Martha Claussen served as publicity director at Sam Houston Race Park for ten years and continues to be active in writing, fan education and Quarter Horse racing publicity in Texas, Louisiana and other regions in North America.
* * * * * * * * * * * * * * * * * * * * * * * * * *
2018 LQHBA Yearling Sale Information
Thursday, August 2: 5:00 pm: Hip 1-150
Friday, August 3: 10:00 am: Hip 151-410
Saturday, August 4: 10:00 am: Hip 411-633
Coushatta Casino Resort Pavilion, Kinder, Louisiana
Free and open to the public
Sale catalog available online at LQHBA.com or by calling (318) 487-9506 .
CLICK HERE for 2018 on-line catalog.