LQHBA Scholarship Fund Assists Two Students on Mardi Gras Futurity Day at Harrah's Louisiana Downs
From left: Bossier City Mayor Lo Walker, LQHBA Scholarship winner Hunter Fertenbaugh, LQHBA Board members Jimmie Hatcher and JoBaya Foreman and LQHBA Scholarship winner Maddison McFadden.

© Hodges Photography / Ann Switalski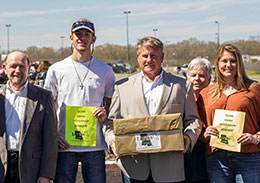 BOSSIER CITY, LA—MARCH 18, 2019—
A thrilling day of Quarter Horse racing took place Saturday, March 16 at Harrah's Louisiana Downs in Bossier City, Louisiana. Hh Gailforce won the prestigious $305,296 Mardi Gras Futurity (RG2), the first official test for 2-year-olds in the country and Tdz Louisiana Toast was an impressive champion in the $120,782 Mardi Gras Derby.
The afternoon also featured the first opportunity of the year for eligible Louisiana students to receive scholarships from the Louisiana Quarter Horse Breeders Association (LQHBA) Scholarship Fund.
With Senator Barrow Peacock, Bossier City Mayor Lo Walker and several LQHBA Board of Directors in the winner's circle for the scholarship drawings, two area students will be able to further their education in a higher education institution of their choice. Winners of $2,000 scholarships were Hunter Fertenbaugh of Shreveport, Louisiana and Maddison McFadden, who resides in Ruston, Louisiana. Both are currently furthering their education at Louisiana Tech University in Ruston.v The LQHBA Scholarship Fund was the vision of the late Jim Mitchell and Executive Director Emeritus Leverne Perry, and is supported strongly by the LQHBA and its board members. Over $570,000, has been earmarked for this program since its inception in 2001.
For more information on the LQHBA Scholarship Program, visit LQHBA.com or call the LQHBA office in Alexandria at (318) 487-9506.