News
- Sales
August 23, 2017
---
Archive Sales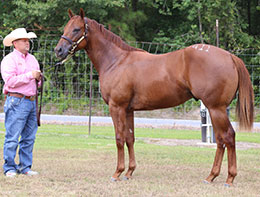 © Amanda Glidden / Plugged-In Equine Marketing

Editor's note: AUGUST 8, 2017—Several typos in the sales data reported caused some horses not be listed correctly under their consignors. This has been corrected and is now reflected in the story below. We apologize for any inconvenience this may have caused).
KINDER, LA——AUGUST 5, 2017—Records tumbled in Kinder, Louisiana on Saturday after a record setting $182,000 colt by first crop sire Five Bar Cartel sold in the closing session of the LQHBA Yearling Sale.
The three-day event kicked off Thursday evening and closed on Saturday with 404 of the 536-head passing through the sal


Read More ...
---