Fair Grounds Donates to Louisiana Flood Relief
A donation of $27,847 is being made to the United Way of Southeast Louisiana by Fair Grounds Race Course in conjunction with First American Bankcard, Inc. to aid flood relief in Louisiana.

© Fair Grounds Race Course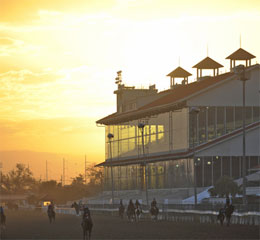 NEW ORLEANS, LA—AUGUST 28, 2016—
Fair Grounds Race Course & Slots announced today that in conjunction with First American Bankcard, Inc. a donation of $27,847 is being made to the United Way of Southeast Louisiana.
The donation is a compilation of funds provided by both Fair Grounds and First American, as well as a portion of the admissions from today's exotic animal racing, which is part of the Summer Quarter Horse Meet presented by REDD's Apple Ale, Tito's Handmade Vodka and the Louisiana Quarter Horse Breeders Association (LQHBA).
"It is with great pleasure that we are able to partner with Anthony Rabito, Jr., President and CEO of First American Bankcard, Inc., to provide resources dedicated to the recovery of those that suffered from the recent flooding in South Central Louisiana. Our hearts go out to the thousands affected by the recent rainfall and we are confident that the United Way of Southeast Louisiana will use it to continue the incredibly impactful support that they are engaged in across the region," said Tim Bryant, president of Fair Grounds.
United Way of Southeast Louisiana President and CEO Michael Williamson says, "Mother Nature has once again shown us she is in charge. Just several months ago our region was flooded and now residents are hurting again. Families who are still trying to rebuild are now at risk. Through hurricanes, tornadoes and floods, our residents have proven they are resilient, but they do need help. Long-term recovery and rebuilding takes time, money, and is more than just brick and mortar. United Way supported programs with nonprofit Community Impact Partners can also provide food, clothing, counseling and other services to make people whole. "
First American Bankcard, Inc. President and CEO Anthony Rabito Jr. stated "We believe that in times of need, everyone deserves a helping hand to get back on their feet. We continue our focus of giving back to the communities that we do business in and are excited to partner with Fair Grounds to make in immediate impact on the work that the United Way of Southeast Louisiana is doing in South Central Louisiana."
The donation will be distributed to assist the Tangipahoa Parish and Capital Area Region flood victims.