Funeral Services Set Monday for Longtime Quarter Horse Trainer Eusevio Huitron
Funeral services will be held Monday (July 30)in Austin for longtime Quarter Horse trainer Eusevio Huitron.

© Courtesy Mission Funeral Home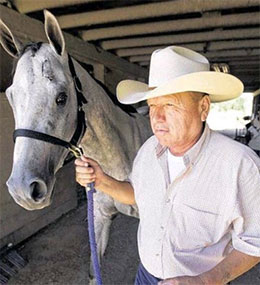 AUSTIN, TX—JULY 25, 2018—
Longtime Quarter Horse Racing trainer Eusevio Huitron, 54, a resident of Austin, Texas died Monday (Jul 23).
Mass of Christian Burial will be at 9 a.m., next Monday (Jul 30) at St. Ignatius Martyr Catholic Church located at 126 W. Oltorf Street in Austin, Texas.
Visitation will begin at 4 p.m., Sunday with Recitation of Holy Rosary at 6:00 p.m. at the Mission Funeral Home - South Side, 6204 S. First Street in Austin. Interment will follow at Cook-Walden Capital Parks Cemetery in Pflugerville, Texas.
Funeral services will be held Monday (July 30) at the St. Ignatius Martyr Catholic Church in Austin. Visitation and rosary will be held from 4 to 6 pm at the Mission Funeral Home – South Side in Austin. He will be buried in Pflugerville, Texas.
Huitron saddled 219 Quarter Horse winners from 1,328 starters with earnings of more than $4.46 million with wins in such races as the Refrigerator Handicap(G1), Texas Classic Futurity(G1), Dash For Cash Futurity(G1), Texas Championship Challenge(G1), Leo Stakes(G1), Sam Houston Futurity(G2), Sam Houston Derby(G2), Retama Park Derby(G2), etc.
He conditioned such horses as AQHA Racing Champion 2-Year-Old Tempting Dash, Easy Dashin Sixes, Charal Kid, Miss Kips Streakin, Sassmaster, Eyesa Jumpn, Bertha Venation, Cocopata, Graceful Eagle, Jess Fly With Me, Fly Corona, Shez The Bomb, Witchs Streak and more.
Huitron was preceded in death by his father, Isabel Huitron Venegas and his brother, Juan Pedro Huitron.
He is survived by his loving wife of 32 years, Denise Castro Huitron; his beloved children, Melinda Chavez and her husband, Simon, Erika Jeanette Huitron, Adrian Eusevio Huitron and his wife, Ruby, Abraham Huitron, McKayla Huitron, and Camila Huitron; his precious grandchildren, Adrian Chavez, Elian Chavez, Simon Chavez, Dayami Chavez, Sara Chavez, Yahir Chavez, Luz Riojas, Adrian Eusevio Huitron, Jr., and Madison Nevaeh Huitron; his mother, Amelia Maldonado Ibarra; his treasured siblings, Dolores Almanza Gonzalez, Fructuoso Huitron, Rosa Elia Huitron, Isabel Huitron, Jesus Huitron, Ernesto Huitron, Blanca Idalia Huitron, Jose Maria Huitron, Alberto Huitron, Juan Medrano, Oscar Medrano, Lupe Medrano, Zapopan Medrano, Martha Medrano, and Jose Medrano, Jr.; numerous nieces, nephews, other family, and friends.
Funeral arrangements are handled by Mission Funeral Home. For additional information or to leave condolences CLICK HERE.