Ladies First in the Final of the Richest Mardi Gras Futurity and Derby This Saturday
Vicki Lea McIlvain (left) and Brenda Foster (pictured below) will saddle the fastest qualifiers in the Mardi Gras Futurity and Derby on Saturday at Louisiana Downs.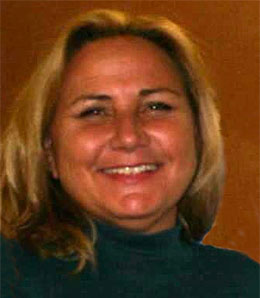 By Martha Claussen
BOSSIER CITY, LA—MARCH 10, 2015—It has been a cold, rainy start of the year in Louisiana, but a racing ray of sunshine is on the horizon for Saturday, March 14 at Harrah's Louisiana Downs. That is the date for the first official futurity of the year, the Mardi Gras Futurity (RG2). For the connections of the ten qualifiers for the 300-yard dash, the day cannot arrive soon enough!
On Saturday, February 21, 143 accredited Louisiana-bred two-year-olds competed in trials for the Mardi Gras Futurity. Last year 15 trials were contested; this year the track hosted 16 trials, resulting in a record purse of $300,502.
In the final trial of the afternoon, One Tough Fox, a filly by Too Tough To Catch, won and set the fastest qualifying time of :15.444 seconds. Trainer Vicki Lea McIlvain gave a leg up to rider Alejandro Medina and closed the day out impressively.
McIlvain and her husband, Yoni Martinez, purchased One Tough Fox for $4,200 in the 2014 LQHBA Yearling Sale.
Well, actually, Vicki was studying her catalog and had another yearling in mind, but looked over and saw Yoni was bidding on the filly. What might have caused some marital friction has long been forgotten as One Tough Fox proved to be a very astute purchase!
A gentle and kind filly, One Tough Fox has one very important fan, the couple's 3-year-old son, Ryder.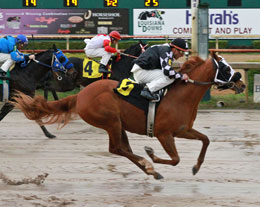 One Tough Fox, under jockey Alejandro Medina, wins the final Mardi Gras Futurity trial while posting the fastest qualifying time.
© Lynn Roberts / Lou Hodges Photography
"Ryder just migrated to One Tough Fox," said McIlvain. "Since we took her home after the sale, she is his favorite and he tells everyone that she is his horse."
McIlvain, who resides in Canton, Texas, is pleased with the progress of her filly.
"She really jumped up in her schooling race," said her trainer. "In the trial, the slop didn't bother her."
McIlvain reported that One Tough Fox came out of her trial is good shape, and all systems are go for the final, where she drew the rail and will reunite with Medina.
The winner's share of the Mardi Gras Futurity is $135,225 and would be the biggest score for McIlvain, whose previous top triumph was a victory by Million Dollar Kiss (Jess Louisiana Blue) in the 2014 John Deere Juvenile Texas Challenge at Sam Houston Race Park last May.
Not to diminish the chances of One Tough Fox, but fastest qualifiers have not fared well in the last two runnings of the Mardi Gras Futurity. In 2013, Sandra Sue Blue, at 33-1, was the gate-to-wire spoiler and last year's final went to longshot Hemps Jumpn Lajolla ($25.80), owned and trained by Miguel Rodriguez. The fastest qualifier, Dynastys Jumpin, was disqualified and placed seventh.
Rodriguez is hoping for good fortune again this year. The Mission, Texas horseman, had 17 juveniles in trials and will saddle two in the final.
Toast To Catch, also sired by Too Tough To Catch, posted the fourth fastest qualifying time of :15.529, and will be ridden by Randy Edison on Saturday.
"He hopped out of the gates in his trial," said Rodriguez, who owns and trains the gelding. "With a cleaner break, I know he can do better."
Both Toast To Catch and Brays American Honey, a daughter of Fast Prize Dash, who qualified with the tenth fastest time of :15.684, are sound and ready for Saturday. Luis Vivanco will ride the filly, from post position three. "I don't have a favorite between the two," said Rodriguez. "The filly left the gates well and got a little tired at the end. Anything can happen in the final."
Trainer Jose A. Garcia also has two entrants in the Mardi Gras Futurity. Ultimate Revenge, a Jet Black Patriot filly, was the second-fastest qualifier with a time of :15.516. Vfgo Max Go, won his trial in :15.528 seconds, and will leave from post five under Eddi Martinez.
Jls Dashn And Zoomn Fastest Qualifier in the $93,898 Mardi Gras Derby (RG2)
The 9th running of the Mardi Gras Derby will also be contested on Saturday. Ten qualifiers from trials run on February 22 are headed to the 400-yard final.
The fastest qualifier, Jls Dashn And Zoomn, owned by J and Y Racing and trained by Brenda Foster, won his trial in :19.543, notching his fifth straight win. Bred by Jls-Speedhorse Ranch, Inc. the son of Sir Runaway Dash, won the richest race in Louisiana last November, the $1 million LQHBA Breeders' Futurity and began this year with a victory in the Billy Montgomery Stakes at Louisiana Downs on January 17.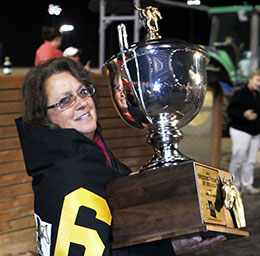 Brenda Foster following the biggest win of her career—the 2014 $1 million dollar LQHBA Breeders' Futurity at Evangeline Downs.
© Coady Photography
With regular pilot Raul Ramirez, Jr. in the irons, Jls Dashn And Zoomn won his Mardi Gras Derby trial in convincing fashion, earning a 105 speed index over the sloppy track. He has won six of his 10 lifetime starts and is nearing the half-million dollar mark in earnings.
History proves that not all star juveniles continue their championship path as 3-year-olds. Foster had that on her mind when they entered in the Billy Montgomery.
"We ran him to see how he would do as a 3-year-old," said Foster. "He earned a 105 that afternoon and again in the trials."
Foster and the Guzmans have an endearing bond with their racing champion and all admit that his success has meant the world to Yoli, who has courageously battled cancer.
"Her health is fantastic," reported Foster. "They are both so thrilled with this horse and we are all looking forward to Saturday."
The other member of the team is rider Ramirez, and Foster gives him credit for his patience and confident handling of Jls Dashn And Zoomn.
"Raul has been a blessing," states Foster. "We have so much faith in him and are proud that we have both paid off our homes with the win in the futurity last November."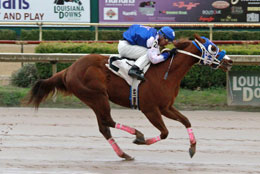 Jls Dashn And Zoomn, under jockey Raul Ramirez, Jr.,
sets fastest qualifying time for the Mardi Gras Derby while
at Louisiana Downs.
© Lynn Roberts / Lou Hodges Photography
Trainer Kevin Broussard has won the Mardi Gras Derby three of the last five years, including last year's final with Heza Fast Rogue, who also prepped for the Derby with a win in the Billy Montgomery.
He qualified three for Saturday. Dashin With Chrome, a Gerald Libersat homebred, the third-fastest time in trials; Where's Mom, a daughter of Heza Fast Dash and Dashacrossyourmind, who secured the tenth qualifying time.
Broussard respects JLS Dashn And Zoomn, but has confidence in his three finalists for the Mardi Gras Derby.
"They all came out of their trials well and drew good posts for Saturday," said Broussard. " Jls Dashn And Zoomn is a nice horse and I'm not sure we can beat him, but I believe I have a couple really coming into themselves as 3-year-olds."
Broussard acknowledges that preparing for the Derby is much easier that readying untested 2-year-olds for the first futurity of the season.
"With a year under their belts, the 3-year-olds are more mature and know how to run," explained Broussard. "Especially with the weather this year, the babies have not had as much time to get ready."
Saturday's finals will kick-off another record-setting year for accredited Louisiana-bred racing with major championships set for the upcoming meet at Delta Downs, then Fair Grounds and concluding with the annual Quarter Horse racing season at Evangeline Downs.
"We are pleased that horsemen have supported the first official futurity of the year," said Tony Patterson, executive director of the Louisiana Quarter Horse Breeders Association. "The record purse for the Mardi Gras is just the beginning for another lucrative year for both juveniles and older horses in Louisiana."
Post time for Saturday's card at Louisiana Downs is 1:00 p.m. (Central). The Mardi Gras Derby is set for race five with an estimated post time of 2:36 p.m.(CT), and the Futurity will follow as the seventh race of the day, at approximately 3:24 p.m.
For those unable to attend the races in person, the live broadcast is available on Q-Racing Video: www.qracingvideo.com.
* * * * * * * * * * * * * * * * * * * * * * * * * * * * * * * * * * * * * * * * * * * * *
Martha Claussen served as publicity director at Sam Houston Race Park for ten years. She continues to be active in writing, fan education and Quarter Horse racing publicity in Texas, Louisiana and other regions in North America.