Entries Due Monday April 11th For Delta Downs Schooling Races
Entries are due Monday, April 11 for Delta Downs 2-year-old schooling races to be run April 13 and 14.

© Bee Silva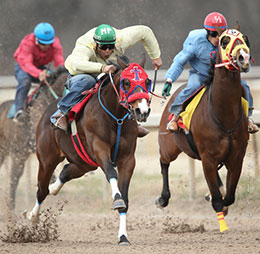 VINTON, LA–MARCH 31, 2022–Delta Downs will host "schooling races", for horses that have never started and are paid up to date in the Laddie, Lassie, and Old South Futurities, Wednesday, April 13th, and Thursday, April 14th at approximately 7:45 pm (CDT).
Fillies will school on Wednesday (Apr. 13) and Colts, and Geldings will school on Thursday (Apr. 14).
The track will open from 5:00 pm - 7:00 pm for training. Track renovation will be from 7:00 pm - 7:30 am Then the schooling races will begin.
Depending on the number of entries all races may be held on one day (Thursday, April 14th, 2022).
All schooling races will be conducted at distance of 220 yards.
Horses are to be brought to the paddock fully tacked. Riders will be legged up in the paddock. Delta Downs will be use its P.A. System to inform trainers when to have their horses ready and when to bring them to the paddock.
All horses will be identified in the paddock. Whips will be allowed. All schooling races will be electronically timed.
Entries will be taken for both fillies, colts and geldings on Monday, April 11th from 8 am to 10 am (CDT). Please remember the person making entries must have the correct spelling of the horse's name at time of entry. Riders must be named at time of entry.
All horses must be paid up to date in the Laddie, Lassie, and Old South Futurities. All horses must have an OK from the starting gates on file with the racing office prior to entering schooling races. All horses must be tattooed and have their papers or a copy on file in the racing office.
A $50 Entry fee (non-refundable) will be charged to all owners of horses competing in schooling races. Fees must be on deposit with the Horseman's Bookkeeper at least one day prior to entering for the schooling races.
Horses with no fees on deposit will be scratched.
Training Hours:
• The track will be open Tuesday thru Saturday 6:00 am - 10:00 am Track renovations will be from 8:00 am- 8:30 am Gates will be up from 7:00 am - 9:30 am
• The track will be open Monday April 11th and Tuesday April 12th from 7:00 PM to 10:30 PM with not break.
• Training April 13th and 14th will be from 5:00 pm - 7:00 pm with no break. Schooling races to start at 7:45 pm
•
The Track will be closed Friday April 15th.
•
The track will open for training Saturday April 16th with normal training schedule.
•
The track will be open for training Monday May 2nd.
Zero Date:
Horses which have been registered with their foal certificates, and a current coggins and a negative Equine Piroplasmosis test for Theileriaequi taken within the past 12 months and tattooed, in the racing office by 7:00 pm Thursday, April 14th 2022 will receive a "0" date.
If you have any additional questions, please contact the Delta Downs racing office at (888) 589 -7223.

The schooling races will be streamed live on deltadownracing.com.